February 9, 2011
2010-11 Season - Giovanine picks up win number 300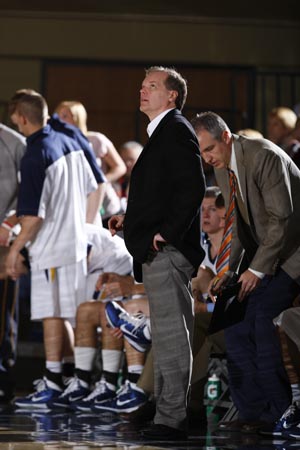 Augustana head coach Grey Giovanine picked up his 300th victory as a collegiate head coach on Wednesday, February 9 when his Vikings defeated Wheaton 80-77 on the road. Augustana is now 21-1 overall, 10-1 in the CCIW, and ranked fifth in NCAA Division III.
WHEATON, Ill. - Four starters scored in double figures and fifth ranked Augustana hit just enough free throws to successfully bounce back from its first loss of the season. The Vikings won a critical College Conference of Illinois & Wisconsin road game on Wednesday, February 9 at Wheaton, defeating the Thunder 80-77. In the process, Augustana head coach Grey Giovanine picked up his 300th career collegiate head coaching victory.
It couldn't have come at a better time as the Vikings, coming off their first loss of the season on Saturday night at home to Carthage by a score of 65-58, embark on a four game road swing to end the season. It was the first win at Wheaton for the Vikings since the 2006-07 campaign.
Balanced scoring was the key as junior point guard Brian DeSimone (Buffalo Grove HS, Wheeling, Ill.) led the way with 17 points as he hit on six of eight from the floor with one of one from three point range and four of six from the free throw line. Junior Troy Rorer (Bettendorf HS, Bettendorf, Iowa) and senior Kyle Nelson (Deerfield HS, Deerfield, Ill.) each had 15 points and junior Bryant Voiles (Byron HS, Byron, Ill.) chipped in with 13.
Augustana led by 11 (47-36) at halftime and kept the lead close to double digits most of the way. When Rorer, who was eight of 10 from the foul line in the game, buried a pair of free throws with 2:19 left the margin was 11 (71-60).
That is when things got interesting.
First, Nate Serenius drilled a three point field goal at the 2:00 mark to trim the lead to eight (71-63). DeSimone answered with one of two free throws at 1:51 to make it 72-63. Serenius scored at 1:38 to trim the margin to seven (72-65). DeSimone went one for two once again from the charity stripe, this time at 1:33, to make it 73-65. Andrew Jahns answered quickly with a falling away three pointer from deep in the corner at 1:23 to cut things to five (73-68).
Senior guard Drew Croegaert (Geneseo HS, Geneseo, Ill.) went one of two from the foul line at 1:11 to bump the margin to six (74-68) but Wheaton's Tyler Peters tipped in a missed shot by Jahns with :57 left to make it a four point game (74-70). After a Thunder steal, Jeremy Pflederer drilled a three off an assist by Peters to cut the margin to a single point (74-73) with just :44 left on the clock.
Voiles calmly hit two free throws at :44 after Wheaton fouled him with no time coming off the clock to push the advantage to 76-73. The Thunder's Tim McCrary, who led his team in scoring with 15 points, hit a pair of free throws at :34 to once again make it a one point game (76-75). Wheaton wasted no time in fouling Rorer but with :32 left he nailed both free throws to add to the lead (78-75.
Pflederer sank a pair of free throws with just :19 left to close the game to one point again (78-77). Two seconds after Pflederer trimmed things to a single point, DeSimone sank both charity tosses at :17 to count for the final margin of 80-77.
The action wasn't done, however, as Jahns missed a shot attempt with five seconds left and Peters was off the mark on a three pointer at the buzzer and Croegaert was there to corral the rebound and secure the win.
Augustana, now 21-1 overall and 10-1 in the CCIW, shot .509 (27-53) from the field for the game after shooting at a .613 (19-31) clip in the first half. The Vikings also hit five of six three point attempts in the first 20 minutes. They also held a 35-28 advantage in rebounding with Nelson leading the way with eight.
McCrary led Wheaton, now 15-7 overall and 6-5 in the league, with 15 points while Spencer Schultze dropped in 14. The Thunder shot .463 (25-54) from the floor for the game, including .571 (8-14) from three point range.
Augustana will be back on the road on Saturday, February 12 with a 4:30 p.m. game in Decatur, Illinois against Millikin. Giovanine is now 300-175 (.632) during his career as a collegiate head coach. He was 80-85 in six seasons at Lamar and is 220-90 (.710) in 12 years at the Vikings' helm.