February 8, 2011
2010-11 Season - Vikings fall to Wheaton on the road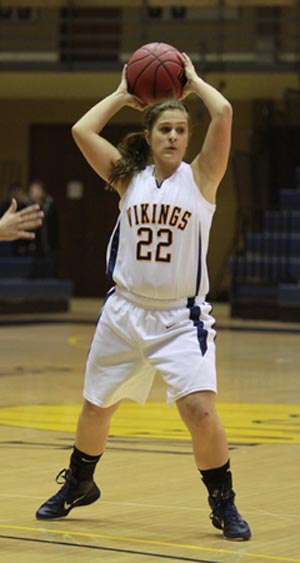 Gianna Pecora made a key impact off the bench, scoring a team-high 16 points in 19 minutes of action against Wheaton. She finished 4-7 from the field, including 4-6 from beyond the three point arc, and also converted all four of her free throw attempts. Pecora added three rebounds and two assists and did not have a turnover.
WHEATON, Ill. – The Augustana women's basketball team suffered a 91-58 loss to Wheaton on Tuesday, February 8 in Wheaton, Illinois. The Vikings were only outscored 44-37 in the second half, but faced a big halftime deficit in the road defeat.
The Viking offense struggled in the early going, only scoring four points in the first nine minutes of action. Wheaton, meanwhile, hit a trio of three point field goals on the way to a 19-4 advantage. The Thunder would go on to nail five more buckets from beyond the arc in the final nine minutes, building a 47-21 halftime lead.
Junior Whitney Miller (Clinton HS, Clinton, Iowa) led the Blue & Gold with seven points in the first half. Sophomore Gianna Pecora (Downers Grove South HS, Downers Grove, Ill.) also connected on a three point field goal late in the half, a sign of good things to come, as she would go on to finish with 16 points to lead the Vikings.
Senior Kristen Fox (Ottawa HS, Ottawa, Ill.) got on track with six straight points to open the second half, but Wheaton used a 15-6 run to sprint out to a 62-27 advantage at the 15:15 mark. Pecora continued her strong play in the final stanza, knocking in three more shots from three point territory and also converting all four of her free throw attempts.
After nailing nine shots from beyond the arc in the first half, Wheaton cooled down a little bit, but still converted five more attempts to finish with 14 three point baskets on the night. The Thunder finished the game by shooting 47.1 percent (32-68) from the floor, including a sizzling 48.3 percent (14-29) from behind the three point line. The Blue & Gold shot 40.7 percent (22-54) from the field.
Fox joined Pecora in double figures with 14 points and also grabbed eight rebounds to lead Augustana. Sophomore Kelsey Mikula (Coal City HS, Coal City, Ill.) also provided some offensive punch, quickly tallying nine points in six minutes of action. She converted three of five field goal attempts from beyond the arc.
The Vikings fall to 5-17 overall and 1-10 in the College Conference of Illinois & Wisconsin. Augustana will travel to Decatur, Illinois to face Millikin on Saturday, February 12. Tip-off is set for 2:00 p.m.
Story written by Assistant Sports Information Director Adam Strand