February 9, 2011
2011 Season - Patrick Zeunik wins CCIW honor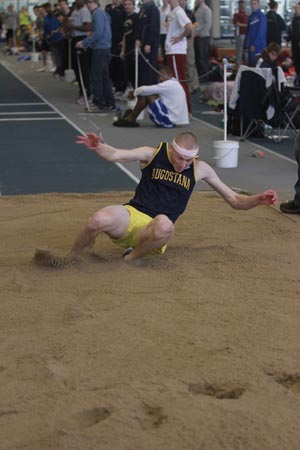 Senior Patrick Zeunik was selected as the College Conference of Illinois & Wisconsin's "Athlete of the Week" in track & field for his performance on February 4 at the UW-Whitewater Invitational. He won the triple jump with a school record leap of 49' 4 1/2" and placed second in the long jump at 22' 9".
Patrick Zeunik (Bloomington Central Catholic HS, Bloomington, Ill.) has been selected as the "Field Athlete of the Week" in the College Conference of Illinois & Wisconsin, it was announced today. Zeunik broke his own school record in the triple jump to lead the way for Augustana at the Whitewater Invitational on Friday, February 4 in Whitewater, Wisconsin.
Zeunik exploded for a 49' 4 ½" leap in the triple jump to capture the event. He broke his own record, set on January 15 in Dubuque, Iowa, of 48' 9". His leap was well beyond the NCAA Division III automatic qualifying time for the national meet. For good measure Zeunik added a second place performance in the long jump with a mark of 22' 9".
Zeunik was a two-time All-American as a junior. He placed seventh in the NCAA Division III triple jump in the 2010 indoor national meet at DePauw University in Greencastle, Indiana on March 13 when he recorded a leap of 47' 3 ¾". During the year set a new indoor school record of 47' 8" when he won the CCIW title in Naperville on February 27.
He also earned All-American honors during the 2010 outdoor season when he finished seventh with a jump of 48 1 ¼" on May 29 at the national meet, which was held at Baldwin-Wallace College in Berea, Ohio. Zeunik broke the triple jump school record on April 3 at the Wartburg Select Meet when he went 48' 2". He erased the oldest school record in the books, that of Geoff Smithers from 1968.
So far this season, Zeunik won the Sol Butler Classic with a then-school record of 48' 9" on Saturday, February 15. He won the long jump with a jump of 22' 8 ¼" at the Midwest Invitational in Monmouth, Illinois on January 22. He set a meet record in winning the triple jump at the Lutheran Quadrangular in Waverly, Iowa on January 29.
Zeunik is a biology major and the son of John Zeunik and Mary Richter-Zeunik of Bloomington, Illinois.