Encouraging young environmental scientists
February  08, 2011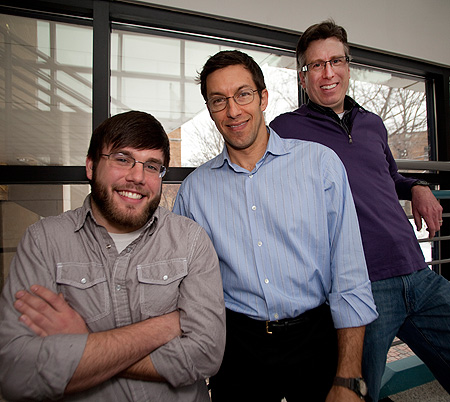 Senior Jeremy Hoffman, left, with Dr. Mike Wolf and Dr. Jeff Strasser. Hoffman credits a summer geology field trip with the two professors as the beginning of his interest in the subject. (Augustana Photo Bureau/Marla Alvarado Neuerburg)
Cracking the '8.2 Kiloyear Cold Event,' senior wins national award

Geology major Jeremy Hoffman '11 has the energy and talent the world requires of its newest generation of environmental scientists — and the American Geophysical Union (AGU) has let him know.
Late last year AGU informed Hoffman he was the first winner of the David E. Lumley Young Scientist Scholarship for Energy and Environmental Science. Funded through the endowment of David E. Lumley of the Centre in Petroleum Geoscience at the University of Western Australia, the $2,000 award recognizes an undergraduate or high school student for research that addresses a global problem related to energy or environmental science. The winner also receives a travel grant to present his or her research at the AGU fall meeting, which brought Hoffman to San Francisco in December.
Hoffman says the award symbolizes not only AGU's dedication to the energy and environmental sciences, but also his own "scientific ardor." If any field — scientific or otherwise — needs such passionate attention, it may be the environment. Hoffman predicts an "extremely rough and trying future."
"Even the most optimistic global climate predictions over the next 50 years project significant increases in extreme weather conditions such as droughts, storms and floods," he said. "We may see marked temporal shifts in the seasons, dangerously high summer temperatures and more regional air quality warnings. As a geoscientist, it's good to be realistic about this because it seems like not many people are."
A fingerprint on a cold trail
Hoffman's primary concern is the impact of fresh water from melting ice sheets, and this concern has formed the basis for his Senior Inquiry. In particular, his research has focused on what's known as the "8.2 Kiloyear Cold Event," which he describes as the most abrupt and significant climate change event in the past 12,000 years.
About 8,200 years ago, a massive glacial lake drained into the Atlantic Ocean through the Hudson Strait. The effect on the circulation of salt water caused a drastic sudden cooling (about 5 degrees Celsius) of the Northern Hemisphere. For about 20 years, scientists have been trying to find the "fingerprint" that matches the temperature drop exactly with the date of the drainage. They've had little luck, until now.
Augustana alumnus Dr. Anders Carlson '00 of the University of Wisconsin-Madison was Hoffman's advisor for his research project. It was Dr. Carlson who first introduced Hoffman to the lure of Quaternary geology (2.6 million years ago to the present), and who wanted to try a new method for tracing the glacial melt water near the Hudson Strait. Hoffman used shells ("called 'tests' in geologists' jargon") of a kind of plankton to determine temperature fluctuations of that region of water over the last 11,000 years. He succeeded in discovering the 5-degree temperature drop over the period of time matching it to the catastrophic lake drainage, therefore identifying the cause of the 8.2 Kiloyear Cold Event.
"It is all very exciting, and many people have been impressed with the results," said Hoffman. Like others, he is extremely interested in how melting ice sheets will affect the environment in the near future. "If we can determine the short-term effects of such melting, perhaps we can safeguard against them... As a species, we must figure out how to fix or at least dampen the effects of these negative changes to our climate. If we don't, we very well could be the agents of our own demise."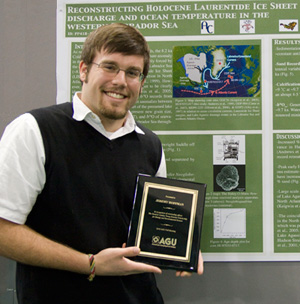 Jeremy Hoffman with his award from the American Geophysical Union.
Since that first summer
Yet his impulses as a researcher are fueled by excitement, not desperation. Hoffman said he owes his fervor to a summer experience before his first year on campus, when he joined Dr. Mike Wolf, Dr. Jeff Strasser and a group of other first-year Augustana students on the Rocky Mountains geology field trip to South Dakota and Wyoming.
"I was already an avid hiker and outdoorsman, but had no idea I could really study what was out there under my feet. The professors were so accommodating, convivial and enthusiastic, that it was easy to get really into the subject."
He's also had a great deal of fun over the past year working with Dr. Carlson, who graduated from Augustana just over a decade ago, noting similarities in their experiences as Augustana students. As for that experience, Hoffman credits his liberal arts education (he also is working on a Classics minor with a concentration in Latin) and the ability to approach a project from different angles for helping his project along.
"Mostly, I've learned that 'knowing your stuff' is much, much different than 'understanding your stuff.' I can only hope that one day I'm as knowledgeable as my advisors," he said.
A positive future
That's likely to happen, if his plans work out. To support his graduate studies in a geology Ph.D. program (he's applied to three), Hoffman would like to study current glacial dynamics in Greenland, Antarctica or South America. His long-term goals include working toward assessing climate issues in the professional sector, and then pushing his work into the political realm.
"I'd like to find myself working with congressional bodies to form transparent and effective climate legislation that can be applied worldwide," he said. "I think politics and environmental science have an as-of-yet unrealized positive future together, and I'd love to help our government get there.
"The only thing we can do right now as geoscientists is attempt to explain the dense nature of our science to the public. If the public understands the severity of the situation, we're more likely to accomplish our goals. This knowledge gap between the scientific community and the public tends to render potentially positive environmental reform … insufficient. All we can do is teach and hope!"