February 5, 2011
2011 Season - Hottle wins 800 at Warhawk Classic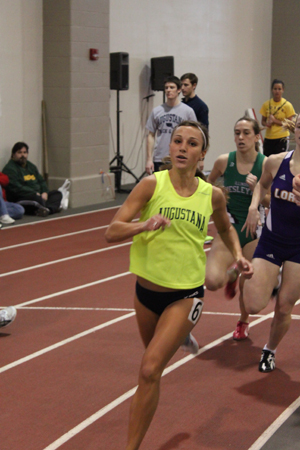 Hannah Hottle ran a winning 2:18.74 at 800 meters Saturday at Wisconsin-Whitewater's Warhawk Classic.
WHITEWATER, Wis. - Hannah Hottle (Monmouth-Roseville HS, Monmouth, Ill.) ran a 2:18.74 at 800 meters Saturday to win the event at UW-Whitewater's Warhawk Invitational. Augustana scored 36 points to finish sixth in the eight team field. UW-Oshkosh won the meet with 145 total points.
Other place winners for the Vikings included the distance medley relay team of Brittany Prazak (Naperville North HS, Naperville, Ill.), Kristyn Barton (York HS, Elmhurst, Ill.), Kirstillyn Pohlman (Zion Benton HS, Winthrop Harbor, Ill.) and Kelsey Stockert (Peoria Notre Dame, Mapleton, Ill.), who combined to run a second-place 13:34.45.
The 4x200 and 4x400 relays each garnered fourth-place finishes. The 800 relay unit of Cat Foreman (St. Joseph-Ogden HS, St. Joseph, Ill.), Brittney Bennett (Annawan HS, Annawan, Ill.), Amy Walsh (Cary-Grove HS, Cary, Ill.) and Emily Margosian (Neuqua Valley HS, Naperville, Ill.) finished in 1:52.04 and the 1600 relay team consisting of Bennett, Hottle, Walsh and Sarahbeth Jones (Warren Township HS, Wadsworth, Ill.) ran a 4:08.59.
Kierra Smith (Creston HS, Creston, Iowa) ran a :09.01 to take fifth place in the 55-meter hurdles and Taeler Hillyer (Rock Island Alleman HS, Bettendorf, Iowa) and Ella Mathieson (Lyons Township HS, LaGrange, Ill.) each earned eighth-place finishes. Hillyer cleared 10' 10" in the pole vault and Mathieson went 34' 6¾" in the triple jump.
Next Saturday, February 12, the Vikings will host the Augustana Open at Pepsico. Starting time is scheduled for noon.