February 4, 2011
2010-11 Season - Vikings fall to Elmhurst in final dual meet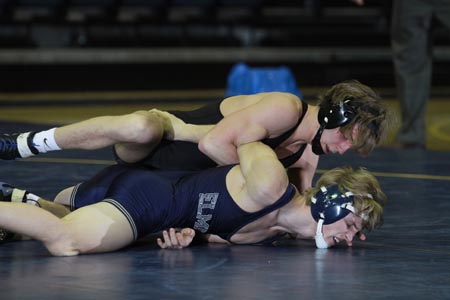 Freshman Bradley McDermott moved his record to 12-6 with an 8-4 win over Elmhurst's Jake Denhof at 133 pounds on Friday, February 4 in the Carver Center.
Despite a quick start with victories at the first two weight classes, Augustana fell to Elmhurst on Friday, February 4 in the Carver Center by a score of 29-9. It was the final dual meet of the season for head coach Eric Juergens' team.
Freshman Jacob Scholten (Rockford HS, Grandville, Mich.) got things going at the 125 pound weight class when he decisioned Tom Laskowske by a score of 5-2. Scholten is now the Vikings' team leader in victories with a 33-6 overall record.
Freshman Bradley McDermott (Davenport Assumption HS, Davenport, Iowa) followed that with an 8-4 win over Jake Denhof at 133 pounds. McDermott, who was a last second addition to the Augustana lineup, is now 12-6 on the year.
Freshman Jordan Graham (Big Rapids HS, Fremont, Mich.) picked up the only other win for the Vikings when he rallied from a 4-1 deficit to defeat Daniel Threlkeld 8-4 at 165. Graham now has a 27-12 record.
Two critical matches went the Bluejays' way on Friday. At 141 pounds Larry Baca defeated Alberto Quiros (Morton East HS, Cicero, Ill.) 5-4 and Frank Savegnago beat Alex Vavra (Gull Lake HS, Dowling, Mich.) 9-4 at 177. Quiros is now 30-9 on the year while Vavra falls to 32-13.
Augustana will wrestle in the College Conference of Illinois & Wisconsin tournament on Thursday, February 10 in Elmhurst. The Vikings finished the season with a 9-6 dual meet record.
ELMHURST 29, AUGUSTANA 9
Friday, February 4, 2011
Carver PE Center
Augustana College
Rock Island, Illinois
125 – Jacob Scholten (A) beat Tom Laskowske (E) 5-2
133 – Brad McDermott (A) beat Jake Denhof (E) 8-4
141 – Larry Baca (E) beat Alberto Quiros (A) 5-4
149 – Ryan Earley (E) beat Steve Poffenberger 14-7
157 – Mike Grice (E) beat Mitch Musgrove (A) 8-0
165 – Jordan Graham (A) beat Daniel Threlkeld (E) 8-4
174 – Frank Savegnago (E) beat Alex Vavra (A) 9-4
184 – Joe Rau (E) pinned David Solis (A) @ 2:19
197 – Danny Vargas (E) beat Matt Nykaza (A) 11-3
285 – Mark Corsello (E) pinned Tim Day (A) @ 2:49