February 3, 2011
2010-11 Season - Shockley picked for NWCA "Hall of Fame"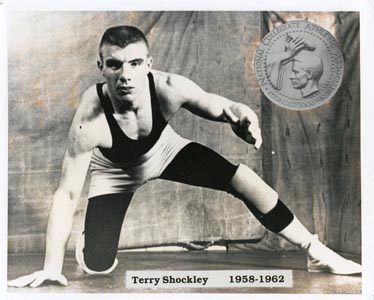 Terry Shockley, a 1962 Augustana graduate and former member of the college's Board of Directors, will be inducted into the National Wrestling Coaches Association's "Hall of Fame" on Thursday, March 10 in LaCrosse, Wisconsin.
Terry Shockley, one of the all-time greats for the tradition-rich Augustana wrestling program, will be inducted into the National Wrestling Coaches Association's Division III "Hall of Fame", it was announced today. Shockley will be inducted on Thursday, March 10 at the NCAA Division III national wrestling tournament, which will be held in LaCrosse, Wisconsin. He will be inducted for his longtime contributions to the sport, specifically at the NCAA Division III level.
Shockley will be one of seven inductees at the ceremony, which will take place in the LaCrosse Center Ballroom. The ceremony will begin with a 6:00 p.m. social gathering, followed by a dinner/induction at 6:30 p.m. He will be joined in the class of 2011 by former wrestlers Zack Kallai, Case Western, Jason Ott, Wisconsin-LaCrosse and Nick Fornicoia, Augsburg and former coaches Dave Kemmy, Roger Williams, Steve DeVries, Cornell and Gene Nighman, SUNY-Cortland.
During his career was a four year letter winner and won three College Conference of Illinois individual titles, two at 130 pounds (1960-61) and one at 137 (1962). He finished second in the CCI at 130 pounds as a freshman in 1959, losing in overtime on a referee's decision. He compiled a career record of 69-9 and had 29 pins. An extremely durable performer, he wrestled in every dual meet and tournament that Augustana competed in during his four year career.
Shockley was the Most Outstanding Wrestler in the CCI in both his junior (1960-61) and senior (1961-62) seasons and in the NCAA Mideast Regional in 1961-62. He was the Vikings' Most Valuable Performer in 1960-61 and again in 1961-62 as well as being named the Most Outstanding Wrestler at the Wheaton and Knox Tournament as a senior. Following graduation from Augustana, Shockley competed in many AAU tournaments while serving as the head wrestling coach at the University of Kansas, where he earned a Master's degree in radio-TV film.
In September of 2008, Augustana announced the school's first endowed head coaching position. The "Terry and Sandy Shockley Head Wrestling Coach" was made possible thanks to a generous $500,000.00 endowment gift from Terry and Sandy (Tweddell) Shockley. Terry is a graduate of class of 1962 and Sandy graduated in 1965.
The Shockley's have been long-time supporters of Augustana in general and the wrestling program in particular. In the fall of 2003 the wrestling room in the Carver PE Center was refurbished and renamed the "Shockley Wrestling Room" after a gift from the Shockley's. Terry had a tremendous career as a wrestler at Augustana. In 1962, after winning the NCAA Mideast Regional, Shockley became a national qualifier at 137 pounds in the NCAA University Division at Oklahoma State in Stillwater, Oklahoma. A year earlier, as a junior, he placed second at the NAIA National Tournament in Golden, Colorado at 130 pounds.
Shockley was a member of the Augustana Board of Directors for a two term period from 1998 through 2006. He was inducted into the Augustana "Tribe of Vikings Hall of Fame" in 1982, Wisconsin Broadcasters Association Hall of Fame in 1999 and the Wisconsin Wrestling Coaches Association Hall of Fame in 2006.
Shockley is the fourth person associated with Augustana wrestling to be inducted into the NWCA Division III Hall of Fame. He joins former NCAA Division III national champions Chris Casey and Raphael Wilson and highly successful coach Kevin Puebla.