February 2, 2011
2011 Season - Vikings jump to second in NCAA track & field poll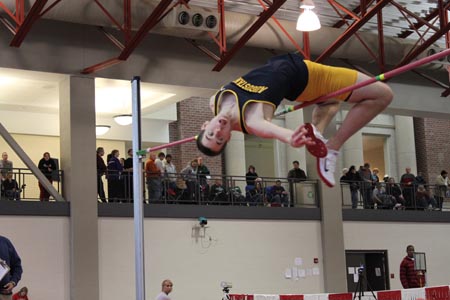 Freshman Nick Sinon has been the top high jumper for the Vikings so far this indoor season. Augustana is currently ranked second in the NCAA Division III indoor track & field power ranking.
After an impressive performance at the Wartburg Invitational on Saturday, January 29 in Waverly, Iowa, Augustana jumped up to second in the latest NCAA Division III men's track & field power rankings. The Vikings of veteran head coach Paul Olsen accumulated 143.86 points and trail only North Central, which totaled 157.84.
Augustana, which was third last week in the first poll of the 2011 campaign, moved ahead of Wisconsin-Oshkosh. The Titans were second a week ago with 139.03 points and dropped to third with the same point total. The poll is conducted by the U.S. Track & Field and Cross Country Coaches Association.
Augustana opened the 2011 season by winning 16 events at the Sol Butler Invitational in Dubuque, Iowa on Saturday, January 15. The Vikings followed that by winning five events at the Midwest Invitational in Monmouth, Illinois on Saturday, January 22. Last week, at the Wartburg Invitational, the Vikings scored 316 points, won eight events and set four meet records. Wartburg, which is currently ranked 11 th in the nation, was a distant second place in the meet with 173 points.
The poll continues to have a decided Midwest flavor as the top three teams, and four of the top five, in the nation are from the Midwest Region.
Augustana will compete in the Warhawk Classic in Whitewater, Wisconsin on Friday, February 4.
2011 NCAA DIVISION III OUTDOOR POWER DUAL MEET POWER RANKING
Sponsored by the USTFCCA
As of 02/03/11
POLL #2
| | | | |
| --- | --- | --- | --- |
| RANK | SCHOOL | REGION | POINTS |
| 1. | North Central | Midwest | 157.84 |
| 2. | Augustana | Midwest | 143.86 |
| 3. | Wisconsin-Oshkosh | Midwest | 139.03 |
| 4. | Massachusetts Institute of Technology | New England | 138.15 |
| 5. | Monmouth | Midwest | 131.11 |
| 6. | Nebraska Wesleyan | Central | 127.66 |
| 7. | Wabash | Great Lakes | 125.91 |
| 8. | Carnegie Mellon | Mideast | 124.24 |
| 9. | Ohio Northern | Great Lakes | 123.68 |
| 10. | Ohio Wesleyan | Great Lakes | 123.00 |