Augustana Choir embarks on Homeland Tour
February  01, 2011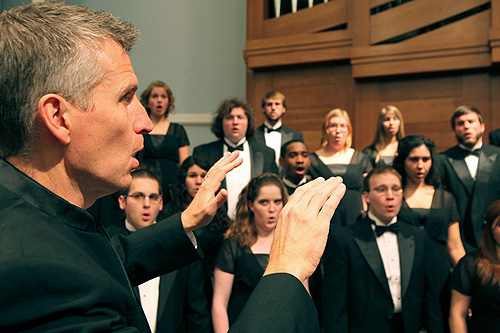 Augustana Choir 2011 itinerary

Friday, Feb. 18, 7:30 p.m.
First Lutheran Church
364 E. Water St.
Galesburg, Ill.

Tuesday, Feb. 22, 7:30 p.m.
St. John's Lutheran Church
1617 E. Emerson St.
Bloomington, Ill.
Saturday, Feb. 19, 7:30 p.m.
St. John's Lutheran Church
2477 W. Washington St.
Springfield, Ill.

Wednesday, Feb. 23, 7:30 p.m.
Good Shepherd Lutheran Church
1310 Shepherd Drive
Naperville, Ill.
Sunday, Feb. 20, 4 p.m.
Trinity Lutheran Church
14088 Clayton Road
Chesterfield, Mo.

Thursday, Feb. 24, 7:30 p.m
Bethlehem Lutheran Church
1145 N. 5th Ave.
St. Charles, Ill.

Monday, Feb. 21, 7:30 p.m.
First Lutheran Church
250 W. Decatur St.
Decatur, Ill.

Friday, Feb. 25, 7 p.m.
First Lutheran Church
225 S. 3rd St.
Rockford, Ill.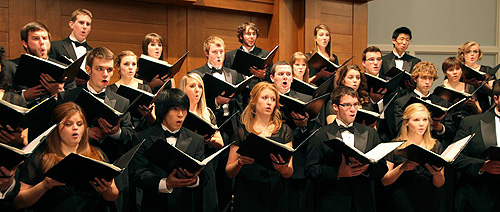 In honor of the 150th anniversary of the college, the Augustana Choir will present a Homeland Tour along the Mississippi River and across the state of Illinois to recognize the college's relationship with its geographic home.
From Feb. 18-25, the choir will perform a variety of music in eight concerts throughout Illinois and northern Missouri, and end with a ninth "home" concert March 11 in Davenport, Iowa, for the Quad City community.
Featured American composers include Aaron Copland, Eric William Barnum, Eric Whitacre, Morten Lauridsen, Stephen Paulus and Robert H. Young. The program also includes works by renowned 20th century international composers Damijan Mocnik, Krzysztof Penderecki and Carl Orff. This rich, eclectic program incorporates works that elicit the idea of community and home.
In addition, the tour program reflects some of the recent performance invitations the choir has received. Selections from Orff's Carmina Burana appear on the program because the Augustana Choir, under Dr. Jon Hurty's direction, has been asked to perform the work at New York's Carnegie Hall this May. Spirituals by composer/arranger Stacey Gibbs close the program. Gibbs asked the choir to record the selections on an upcoming CD of his works.
Dr. Hurty said the tour offers "an opportunity to share the choral program and the talents of our students with an even broader community." Founded in 1931, the Augustana Choir has performed in some of the world's most treasured places, from New York's Alice Tully Hall to the grand Uppsala Cathedral in Sweden and the Great Wall of China.
Touring often is a highlight of a student's college experience. "Tour has been my favorite part of my four years at college," said senior Ryan Shershen. "It takes the cake over classes, parties, other organizations, etc. I have loved the traveling that we have done from Sweden to our nation's capitol. We sound great at every concert, and the best part is that we improve so much as a choir over tour... it is amazing to hear the difference between the home concert after tour and the fall concert at the beginning of the year."
Sam Schlouch
Senior Communication Director
(309) 794-7833
samschlouch@augustana.edu