January 29, 2011
2011 Season - Vikings finish second at Wartburg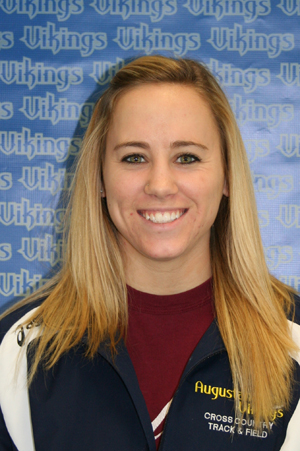 Freshman Taeler Hillyer broke a meet record Saturday, going 10' 2" in the pole vault at Wartburg's Lutheran Triangular.
WAVERLY, Iowa-Taeler Hillyer (Alleman HS, Bettendorf, Iowa), Ella Mathieson (Lyons Township HS, LaGrange, Ill.) and Hannah Hottle (Monmouth-Roseville HS, Monmouth, Ill.) each set meet records and Samantha Bazely (Alleman HS, Coal Valley, Ill.) also picked up a win Saturday at Wartburg College's Lutheran Triangular. Hillyer won the pole vault, clearing 10' 2" and Mathieson went 35' 2" in the triple jump. Hottle finished the 800 in 2:20.50 and Bazely went 15' 1 ½" in the long jump. The Vikings finished second behind Wartburg (276) with 200 points.
Vikings were second, third and fourth at 1000 meters with Sarahbeth Jones (Warren Township HS, Wadsworth, Ill.), Angela Pisani (York HS, Elmhurst, Ill.) and Kelsey Stockert (Peoria Notre Dame HS, Mapleton, Ill.) running 3:11.76, 3:20.15 and 3:24.28, respectively. In the mile, Annie Heifner (Oregon HS, Oregon, Wis.) finished second in 5:38.76 and teammates Melissa Lehpamer (Plainfield South HS, Plainfield, Ill.) and Emma Grandgeorge (Sycamore HS, Sycamore, Ill.) were fourth and fifth in 5:51.40 and 5:53.68.
Laura Schneiderbauer (Sterling HS, Sterling, Ill.) was second in the high jump, clearing 4' 9". Kristin Klouda (West Chicago HS, Winfield, Ill.) was fourth with a leap of 4' 7" and Megan Garvey (Naperville North HS, Naperville, Ill.) went 4' 7" also and finished fifth. Schneiderbauer finished fourth in the pentathlon as well with a total of 2,440 points.
Viking 4x200 and distance medley relays each claimed second place finishes too. Johanna Schnitzler (Downers Grove South HS, Woodridge, Ill.), Cat Foreman (St. Joseph-Ogden HS, St. Joseph, Ill.), Kierra Smith (Creston HS, Creston, Iowa) and Morgan Gale (Oregon HS, Oregon, Ill.) combined to run 1:54.08 in the 800 relay and the distance medley team of Brittany Prazak (Naperville North HS, Naperville, Ill.), Katie Kornaus (Portage HS, Portage, Wis.), Kelsey Moon (Mundelein HS, Wauconda, Ill.) and Stockert finished in 13:56.88.
Bazely finished third behind Mathieson in the triple jump, going 32' 5". Katherine Rowland (Libertyville HS, Libertyville, Ill.) and Taylor Tjardes (Gibson City/Melvin-Sibley HS, Gibson City, Ill.) were third and fifth, respectively behind Bazely in the long jump. Rowland went 14' 1" and Tjardes 13' 1½". Gale was third behind Hillyer in the pole vault, clearing 8' 2½" and Megan Lecander (Sherrard HS, Sherrard, Ill.) and Mathieson were fourth and fifth respectively, with leaps of 7' 8 ½" and 7' 2".
Augustana's 4x400 relay team of Alexandra Blust (York HS, Elmhurst, Ill.), Amy Walsh (Cary-Grove HS, Cary, Ill.), Smith and Hottle grabbed a third-place finish with a time of 4:10.37.
Blust (1:42.71) was fourth at 600 meters and Smith (:09.11) took fourth in the 55-meter hurdles. Foreman (:07.98) and Gale (:08.03) finished fifth and sixth at 55 meters and Theresa Coverick (Stagg HS, Palos Park, Ill.) finished fifth in the 3000 with a time of 11:09.88. Walsh and Liana Beauchamp (Genoa-Kingston HS, Kingston, Ill.) each earned sixth-place finishes. Walsh ran a 1:03.43 in the 400 and Beauchamp put the shot 34' 9¾".