January 29, 2011
2010-11 Season - Scholten places fifth at Wheaton Invitational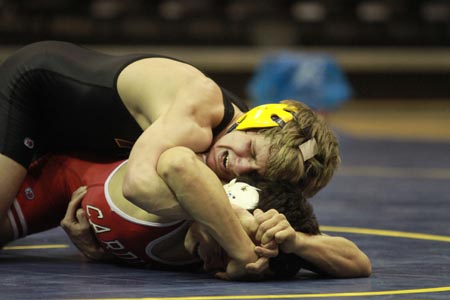 Freshman Jacob Scholten placed fifth at 125 pounds in the 32-team Wheaton Invitational on Saturday, January 29. Scholten is now 32-6 for the season.
Augustana freshman Jacob Scholten (Rockford HS, Grandville, Mich.) continues to be outstanding for the Vikings on the wrestling mat. He placed fifth at the Wheaton Invitational on Saturday, January 29 at 125 pounds to lead the Augustana effort in the 32 team meet. The Vikings scored 43 points and placed 14th in the team standings.
Scholten defeated eighth seeded Mack Drees of Wisconsin-Platteville 12-0 in the fifth place match. He opened the tournament by winning three matches at 125 pounds before falling to number one seed Alex Johns of Indianapolis in the semi-finals on Saturday, January 29 by a pin at 2:27. Scholten, the fifth seed, beat Brandon Stuart of Wisconsin-Whitewater 11-0 to open up the tournament. He pounded Alec Silva of Concordia 15-3 and then upset fourth seeded Carl DeLuca of Wisconsin-Oshkosh 5-2 in the quarterfinals. After losing to Johns, he lost to Brandon Benvenuti of Lindenwood by a fall at 5:43 in the wrestleback semi-finals before bouncing back to beat Drees. Scholten is now 32-6 on the season.
Freshman Jordan Graham (Big Rapids HS, Fremont, Mich.) went 3-1 on the first day at 165. The seventh seed, Graham beat Josh Lowy of Chicago 9-3 and Aaron Konitzer of Wisconsin-Oshkosh 6-1 before falling to second seeded Matt Curley of Heidelberg 10-0 in the quarterfinals. Graham rebounded with a 4-3 win over John Piechuta of Mt. Union in the wrestlebacks to move to 25-10 for the season. He won his first match on Saturday, defeating eighth seeded Ryon Renon of Lakeland 8-4 before losing to Clayton MacFarlane of Lindenwood 16-5. In the fifth place match Graham was pinned by number one seed Cory Ferguson of Wisconsin-LaCrosse and finished in sixth. Graham is 26-12 this season.
Sophomore Alex Vavra (Gull Lake HS, Dowling, Mich.) was also a seventh seed at 174 pounds. He pinned Alex Faulkner of Knox at 3:57 of his first match before falling 9-5 to second seeded Mike Schmitz of Wisconsin-LaCrosse in the quarterfinals. He bounced back with a 6-5 win over Billy Malicote of Mt. St. Joseph in the wrestlebacks. He beat sixth seeded Frank Savegnago of Elmhurst 5-4 but lost on a technical fall (20-4 @ 6:34) to fourth seeded Kyle Kwiat of Ohio Northern. In the fifth place match dropped a 10-2 decision to Schmitz again and finished in sixth place.
Junior Alberto Quiros (Morton East HS, Cicero, Ill.) was awarded the seventh seed at 141 pounds and he beat Jake Narveson of Milwaukee School of Engineering 11-3 in his first match. He fell to second seeded Matt Irwin of Indianapolis 5-3 in the quarterfinals. In his first round of the wrestlebacks, Quiros beat JP Hoopes of Ohio Northern 8-2 but then lost to third seeded Andrew Zobac of North Central by a fall at 4:49 and was eliminated. Quiros is now 30-8 for the year.
Augustana will host Elmhurst at 7:00 p.m. on Thursday, February 3 in the Carver Center.