January 29, 2011
2010-11 Season - Win at Elmhurst ties win streak record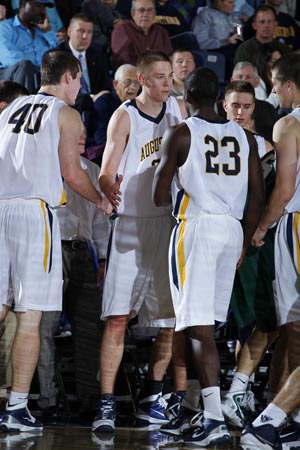 Kyle Nelson (16 points, 5 rebounds), Bryant Voiles (12 points, 4 rebounds) and Troy Rorer (10 points, 6 rebounds) helped spearhead Augustana's 73-49 win at Elmhurst. The Vikings tied a school record with their 19th consecutive victory on Saturday night.
An impressive outing from start to finish was the key as Augustana, ranked third in NCAA Division III, dismantled Elmhurst 73-49 on Saturday, January 29 at Faganel Hall in Elmhurst, Illinois. The Vikings put three players in double figures and enjoyed a huge (45-27) rebounding advantage as they moved to 19-0 overall and 8-0 in the College Conference of Illinois & Wisconsin.
The win had added significance as it allowed head coach Grey Giovanine's team to tie the existing school record of consecutive victories. The previous mark of 19 was set during Augustana's 29-2 campaign in 1972-73 under legendary head coach Jim Borcherding. That team finished third in the N.A.I.A. national tournament.
Saturday night the game belonged to the Vikings from the start as they never trailed. They jumped out to a 7-0 lead in the first four minutes and held a double digit advantage from the 6:24 mark of the first half until the final buzzer. It was a basket by senior Drew Croegaert (Geneseo HS, Geneseo, Ill.) that bumped the margin to 11 (26-15). Early in the second half the lead swelled to 25 (48-23 at 17:31) on a layup by junior Brian DeSimone (Buffalo Grove HS, Wheeling, Ill.). That was the largest margin of the game.
The Vikings led 42-20 at halftime thanks to .481 (13-27) shooting from the floor and a stellar 15 of 20 from the free throw line. In that same 20 minute time frame Elmhurst was held to just .231 (6-26) from the floor and just .273 (3-11) from three point range.
Senior Kyle Nelson (Deerfield HS, Deerfield, Ill.) led Augustana in scoring with 16 points while junior Bryant Voiles (Byron HS, Byron, Ill.) had 12 and junior Troy Rorer (Bettendorf HS, Bettendorf, Iowa) dropped in 10.
Augustana pounded the glass and came away on the positive side of a 45-27 rebounding count with 18 offensive boards. Rorer led the way with six while Nelson and sophomores George Dexter (Bettendorf HS, Bettendorf, Iowa) and Luke Scarlata (Morton East HS, Cicero, Ill.) each had five. DeSimone led the team in assists with three.
Steve Crane was the lone Bluejay in double figures with 15 points off the bench. Elmhurst is now 7-12 overall and 2-6 in the CCIW.
The Vikings will host North Park on Wednesday, February 2 in the Carver Center.