January 29, 2011
2010-11 Season - Etheridge bucket lifts Vikings at Elmhurst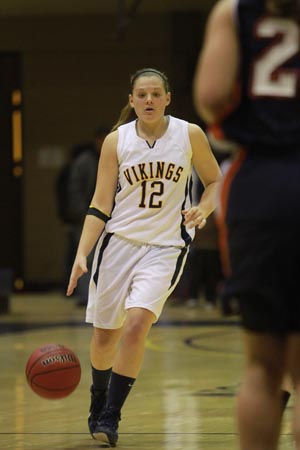 Molly Etheridge scored the winning basket with five seconds left as Augustana snapped a 31 game road losing streak with a 70-68 win in double overtime over Elmhurst.
Freshman Molly Etheridge (Normal Community HS, Bloomington, Ill.) scored on a layup with just five seconds left in double overtime to help give Augustana a 70-68 College Conference of Illinois & Wisconsin victory over Elmhurst on Saturday, January 29. The victory allowed the Vikings to snap a 31 game overall road losing streak (17 in the CCIW). It was the first road win for Augustana since a 70-59 win at North Park on February 16, 2008.
Augustana trailed 26-21 at halftime after shooting just .281 (9-32) from the floor but recovered in the second half and outscored the Bluejays 32-27. Elmhurst led 53-51 after Ceejay Harris made one of two free throws with :43 remaining. Whitney Miller (Clinton HS, Clinton, Iowa) tied the game for the Vikings when she scored with :20 left. Elmhurst had two shots in the final five seconds of play but neither dropped, forcing the game into overtime.
In the first overtime Brianna Skeens (Vernon Hills HS, Vernon Hills, Ill.) tied the game for Augustana at 61-61 with a basket with :18 left. That set up the second overtime and Etheridge's heroics.
Gianna Pecora (Downers Grove South HS, Darien, Ill.) gave the Vikings the lead early in the second overtime with a basket at 63-61 with 4:30 left early in the second overtime. Elmhurst led by three (66-63) after a basket by Meghan Merklein with 3:37 to play. Miller's basket at 3:20 cut the lead to just a single point (66-65) and then Kristen Fox (Ottawa HS, Ottawa, Ill.) drilled a three point bucket at 2:37 to make it 68-66. Kim Schwerdtmann's two free throws at 1:27 tied the game at 68-68 for Elmhurst.
The game was tied a total of 12 times and Augustana battled back from an 11 point deficit (15-4) with 13:18 remaining in the first half.
Fox led the way with 23 points and she also snared a team high 13 rebounds. Miller was also in double figures with 18 points and she pulled down 11 rebounds. Augustana had a huge 59-49 advantage in rebounding.
Meghan Merklein led Elmhurst in scoring with 23 points and Megan Ney had 15 points and 15 rebounds.
With the victory Augustana moved to 5-14 overall and 1-7 in the CCIW while Elmhurst dropped to 9-10 and 4-4.