January 28, 2011
2010-11 Season - Four still alive in Wheaton Tournament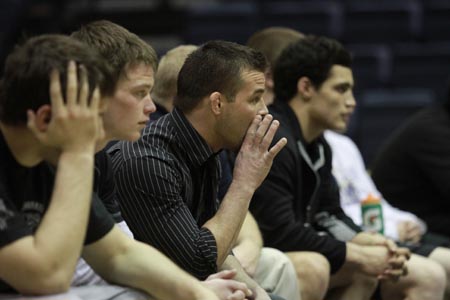 The Augustana Vikings, under the direction of head coach Eric Juergens, have four wrestlers still in contention for places at the Wheaton Invitational. Jacob Scholten, at 125, is still alive in the championship bracket while Alberto Quiros (141), Jordan Graham (165) and Alex Vavra (174) are in the wrestleback portion of the tournament.
Four Augustana wrestlers are still in contention for places at the 2011 Pete Willson Invitational on the campus of Wheaton College. After the first day of competition on Friday, January 28 the Vikings are in 13th place, out of 32 teams, with 34 points.
Freshman Jacob Scholten (Rockford HS, Grandville, Mich.) is the only one of the four still in the championship bracket. He won three matches at 125 pounds and will wrestle number one seed Alex Johns of Indianapolis in the semi-finals on Saturday, January 29. Scholten, the fifth seed, beat Brandon Stuart of Wisconsin-Whitewater 11-0 to open up the tournament. He pounded Alec Silva of Concordia 15-3 and then upset fourth seeded Carl DeLuca of Wisconsin-Oshkosh 5-2 in the quarterfinals. Scholten is now 31-4 on the season.
Junior Alberto Quiros (Morton East HS, Cicero, Ill.) was awarded the seventh seed at 141 pounds and he beat Jake Narveson of Milwaukee School of Engineering 11-3 in his first match. He fell to second seeded Matt Irwin of Indianapolis 5-3 in the quarterfinals. In his first round of the wrestlebacks, Quiros beat JP Hoopes of Ohio Northern 8-2. Quiros is now 30-7 for the year.
Freshman Jordan Graham (Big Rapids HS, Fremont, Mich.) went 3-1 on the first day at 165. The seventh seed, Graham beat Josh Lowy of Chicago 9-3 and Aaron Konitzer of Wisconsin-Oshkosh 6-1 before falling to second seeded Matt Curley of Heidelberg 10-0 in the quarterfinals. Graham rebounded with a 4-3 win over John Piechuta of Mt. Union in the wrestlebacks to move to 25-10 for the season.
Sophomore Alex Vavra (Gull Lake HS, Dowling, Mich.) was also a seventh seed at 174 pounds. He pinned Alex Faulkner of Knox at 3:57 of his first match before falling 9-5 to second seeded Mike Schmitz of Wisconsin-LaCrosse in the quarterfinals. He bounced back with a 6-5 win over Billy Malicote of Mt. St. Joseph in the wrestlebacks. Vavra is 31-10 on the year.