Impatient for news, old friends do a webcast
January  28, 2011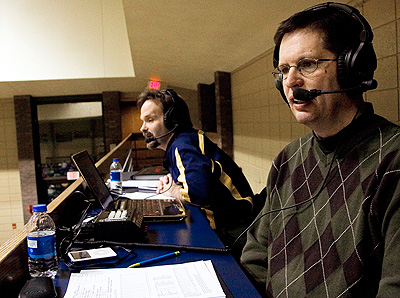 Dan Sand, left, and Chris Ford on the job at a game.
Combine a friendship that goes back 35 years with a passion for Augustana basketball. Throw in a level of frustration at not being able to follow the Vikings. Add to that the expanding technology of the Internet. The result is a series of highly entertaining webcasts of Vikings' men's basketball — courtesy of Dan Sand and Chris Ford '86.
Sand and Ford began their friendship as youngsters at John Deere Junior High in Moline. At the time, Sand was a regular in Carver Center as his future brother-in-law, Barry Nelson, was the starting point guard for legendary head coach Jim Borcherding's 1976-77 team.
Ford attended Augustana, where he majored in political science and public administration, and met his wife Laura, now the college's director of human resources. He and Sand remained friends and regularly made the trip to Carver to see games.
Eventually the two decided to explore broadcasting, though it took a couple years before they approached Augustana with the idea. "Waiting for the 10 o'clock news for game scores was painstaking," says Ford. "The advent of the Internet allowed for many schools to start posting Livestats and some broadcasts of their sporting events."
"It is great to have two guys as informed about Augustana basketball and enthused about our college, carrying our broadcasts and message to the public," says head basketball Coach Grey Giovanine. "They are professional and entertaining at the same time."
A broadcast is equal parts Ford's play-by-play and Sand's background information, gleaned from hours of research and fueled by his longtime interest. Ford is amazed at the preparation his partner brings to each broadcast. "Dan Sand is a treasure trove of Augustana sports trivia," he says. "He is the perfect person to work with because his recall of names and dates is amazing. He has us well prepared for each broadcast."
While followers of Augustana have benefitted greatly from the broadcast, currently available on www.hearitfromhome.com, Sand and Ford have taken away a new respect for the work that goes into building a nationally ranked program like the Vikings.
"It has been great to get a close-up look at how the program runs from recruiting to game preparation," says Sand, who also works as a part-time assistant in the Augustana sports information department.
His partner agrees. "I am amazed at the dedication that surrounds this basketball program," adds Ford. "One of our 'perks' is being able to ride the team bus, and we have learned how much work Coach Giovanine and his staff put in that is not seen by the average person. We also are impressed with the way the players conduct themselves and treat us so nicely."