May 26, 2010
2009-10 MEN'S TENNIS REVIEW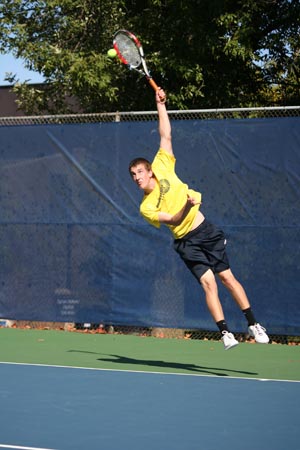 Adam DeSimone played No. 1 singles and No. 1 doubles for the Vikings as a sophomore. He finished with 36 wins and has 79 total for his career. The Blue & Gold have a combined record of 43-25 in the past two seasons.
ROCK ISLAND, Ill. – The Augustana men's tennis team finished off another strong year by edging North Central 5-4 in the third place match at the College Conference of Illinois & Wisconsin tournament. The victory gave Augustana its 22nd win of the season, setting a new school record for single season wins. It is the third straight year that the Blue & Gold have broken this mark. The 2008 team won 20 matches and the 2009 group earned 21 wins. The Vikings finished 2010 with a 22-11 record and a 3-2 mark in the CCIW.
The Vikings pulled out close wins over St. Ambrose and Cornell to begin the fall season and also sent six players to the Intercollegiate Tennis Association (ITA) Regional Tournament hosted by Gustavus in St. Peter, Minnesota. Augustana saw its top two doubles teams each advance to the Round of 16 in the 64 team draw to highlight the event.
The spring season opened with a trip to Coe where the Vikings dropped an 8-1 decision to the Kohawks before sweeping Simpson 9-0. One of the biggest victories of the year came the following weekend when the Blue & Gold knocked off Wabash 5-4 in a thriller. The Vikings trailed 2-1 after doubles, but pulled out a pair of three set wins in singles to earn the victory, avenging a 5-4 loss to the Little Giants from the 2009 season. Augustana dropped a 6-3 decision in another close match-up with UW-La Crosse in the afternoon. After a pair of 9-0 wins over Knox and Judson, the Vikings made the trek to Green Bay, Wisconsin to face St. Norbert and UW-Oshkosh. Augustana pulled out another 5-4 win against the Green Knights, but fell 6-3 to the Titans in the second match of the day.
With a 7-3 record, the team traveled down to Hilton Head Island, South Carolina to play four matches on its annual spring trip. The men opened up with Roanoke and used a doubles sweep to key yet another 5-4 win, the fourth of the season. After a 9-0 victory over Lebanon Valley, Augustana again relied on another doubles sweep in a 6-3 win against York. The Vikings closed out a perfect trip with a 7-2 win over St. John Fisher.
Returning home at 11-3, Augustana split its next four matches, losing 7-2 to Grinnell and UW-Eau Claire and winning 5-4 over Cornell and 8-1 against Monmouth. Another long weekend saw the team pick up a 7-2 win over Central and an 8-1 win against St. Ambrose, but the squad also suffered a 7-2 defeat to Wartburg.
After taking some time off for the Easter holiday, the 15-6 Vikings began the stretch run of the season by playing well, but falling 6-3 to UW-Whitewater. Augustana also had 8-1 losses to Carthage and Luther, but also picked up a key 6-3 win over CCIW foe North Central and swept Loras 9-0. The Vikings nailed down two more league wins with a 7-2 victory against Elmhurst and a 5-4 win over Illinois Wesleyan. The men pulled off another comeback against the Titans, rallying from a 2-1 deficit after doubles to win another close battle between the two squads. The Blue & Gold also dropped a 6-3 decision to Wheaton late in the year, but wrapped up the regular season with a 6-3 win against Dubuque.
Entering the CCIW tournament as the No. 3 seed, the Vikings swept Elmhurst 6-0 in the opening round to set up a rematch with the No. 2 seed Thunder. Augustana trailed 2-1 after doubles for the second time in a row against Wheaton, but eventually fought back to even the match at 4-4 before losing a tight singles match to drop the four hour meet 5-4. As the group has done in recent years, the Vikings rallied back to win a four and a half hour match with North Central 5-4 to claim third place in the conference tournament. The victory over North Central also clinched the new single season record for wins and gave the Vikings another top-three finish in the CCIW.
Sophomore Adam DeSimone (Bettendorf HS, Bettendorf, Iowa) stepped into the No. 1 singles position in his second season with the Vikings and produced a 15-20 record while battling against top competition. He is now 36-28 overall in singles after finishing 21-8 at No. 3 as a freshman. The sophomore received all-conference honors for the second year in a row.
DeSimone also teamed with senior Chris Mullin (Downers Grove South HS, Darien, Ill.) for 19 more wins at No. 1 doubles. The duo finished 19-14 overall, the second straight season that they have tied the single season record for doubles wins set by Rafael Romero ('08) and Andy McCarter ('08) in 2008. DeSimone and Mullin were 38-25 in two seasons and are tied for fourth on the all-time wins list by a doubles tandem.
Mullin had a record breaking year, setting new standards for career wins in singles and doubles. He moved around the lineup this season, playing mostly at No. 3, and accumulated an 18-12 mark, his highest single season win total in four years with the Blue & Gold. Mullin finishes his career with 60 wins, breaking the mark of 58 that was formerly held by Mike Morkin ('87). With his 19 doubles victories, he is now the owner of the individual doubles wins record as well, ending his career with 67 wins to edge past the previous mark of 65 that was shared by John Jevitz ('82) and Steve Miller ('82). Mullin was 37-26 overall this season for Augustana.
Sophomore Nik Lehnert (Greeley West HS, Milliken, Colo.) continued to work his way up the singles lineup, solidifying the No. 2 in the latter part of the season just a year after playing mostly at No. 5. He ended his second year with a 16-14 mark, which gives him a 36-24 record halfway through his career. Lehnert teamed with junior Kyle Doyle (Anthony Wayne HS, Maumee, Ohio) to make an imposing duo at No. 2 doubles, finishing at 19-11 and tying the single season win record.
Doyle split his year between No. 4 and No. 5 singles and ended with a 17-11 record. He is now 53-33 after three seasons and right on Mullin's heels for the all-time singles wins record heading into his senior season. The junior also finished 21-12 in doubles for the second straight season and has a career mark of 55-38, tied for fifth on the all-time list and only 12 behind Mullin.
Freshman Jack Cullen (Edgewood HS, Madison, Wis.) turned in a terrific year at the bottom of the singles lineup, setting a new single season record for singles wins with a 23-10 mark. He broke DeSimone's mark of 21 set last season while playing most of his matches at No. 5 and also spending a fair amount of time at No. 6. Cullen also won 14 doubles matches, giving him 37 wins in his first campaign with the Vikings.
Senior Geoff Schoon (Rock Island HS, Rock Island, Ill.) was 7-4 in singles action and also finished 11-9 in doubles. He finished with a career doubles record of 49-31, moving him into ninth on the all-time wins list. Schoon also completed his four seasons with a 38-26 singles mark, giving him an overall total of 87-57. He teamed with Cullen to win the deciding match at No. 3 doubles against North Central in the final meet of the season.
Freshman Will Palmer (Great Britain – Schiller International School in Spain) battled numerous injuries in his first season, but still picked up six victories at No. 2 singles. He also won six matches in doubles and has a bright future ahead of him heading into his sophomore season.
Freshman Austin Boyle (Moline HS, Moline, Ill.) made the most of his varsity opportunities, accumulating an impressive overall record of 17-4. He was 6-2 in singles and also sported an 11-2 mark in doubles competition while playing with five different partners.
Augustana finished with an overall record of 115-90 in singles and swept all of the singles matches six different times during the season. The Vikings were also 65-41 in doubles and won all three doubles matches in 13 meets. The men won five matches by a 9-0 score and were not swept all season. The Blue & Gold had a season high winning streak of four matches and never lost back-to-back meets.
2010 COLLEGE CONFERENCE OF ILLINOIS & WISCONSIN TOURNAMENT
May 7-8, 2010 ** Evergreen Racquet Club ** Bloomington, Illinois
SEEDS: 1. Carthage (5-0); 2. Wheaton (3-2); 3. AUGUSTANA (3-2); 4. North Central (2-3); 5. Illinois Wesleyan (2-3); 6. Elmhurst (0-5)
FIRST ROUND:
Match #1 – North Central 5, Illinois Wesleyan 3
Match #2 – Augustana 6, Elmhurst 0
SEMI-FINALS:
Match #3 – Carthage 5, North Central 1
Match #4 – Wheaton 5, Augustana 4
PLACING MATCHES:
Match #5 – Illinois Wesleyan 5, Elmhurst 4 (5th place)
Match #6 – Augustana 5, North Central 4 (3rd place)
Match #7 – Carthage 9, Wheaton 0 (1st place)
2009-10 AUGUSTANA SUPERLATIVES
Most Team Wins in a Single Season: 22…(22-11)
CCIW All-Conference: Adam DeSimone (2nd team)
CCIW Finish: 3rd place at conference tournament
Single Season Singles Wins: Jack Cullen…1st with 23 (23-10); Chris Mullin…tied for eighth with 18 (18-12)
Career Singles Wins: Chris Mullin…1st with 60 (60-60); Kyle Doyle…tied for sixth with 53 (53-33)
Single Season Doubles Wins: Chris Mullin & Adam DeSimone…tied for 1st with 19 (19-14); Kyle Doyle & Nik Lehnert…tied for 1st with 19 (19-11)
Career Doubles Wins (Individual): Chris Mullin…1st with 67 (67-56); Kyle Doyle…tied for fifth with 55 (55-38); Geoff Schoon…ninth with 49 (49-31)
Career Doubles Wins (w/ same partner): Chris Mullin & Adam DeSimone…tied for fourth with 38 (38-25)
Career Doubles Winning Percentage: Kyle Doyle & Geoff Schoon…eighth at .650 (13-7); Kyle Doyle & Nik Lehnert…ninth at .645 (20-11).
100th Career Victory: Chris Mullin (03/03/10 vs. Lebanon Valley); Kyle Doyle (04/18/10 vs. Loras)
100 Win Club: Chris Mullin with 127; Kyle Doyle with 108
CCIW "Player of the Week": Nik Lehnert (02/17/10)…Chris Mullin (02/24/10)…Kyle Doyle (04/14/10)…Jack Cullen (05/05/10)
CCIW Academic All-Conference: TBA
John R. Olson "Most Valuable Player": Chris Mullin & Adam DeSimone
Newcomer of the Year: Jack Cullen
Most Improved: Nik Lehnert
Most Inspirational: Chris Mullin