January 27, 2011
2011 Season - Men's track & field is ranked third in NCAA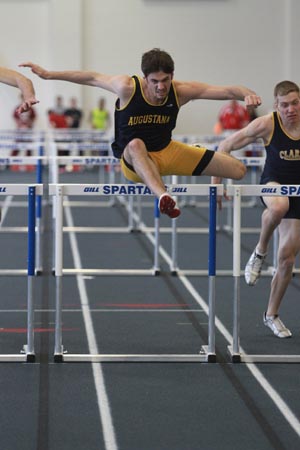 Junior Greg Davis won the 55 meter hurdles in the first two indoor meets of the season (Sol Butler Invitational on January 15 and Midwest Invitational on January 22). Davis and his Augustana teammates are currently ranked third in NCAA Division III in the indoor dual meet power rankings.
Two straight solid performances to start the 2011 season have propelled the Augustana men's track & field team to a third place ranking in the first NCAA Division III indoor national poll. The Vikings of veteran head coach Paul Olsen accumulated 137.34 points and trail only North Central (150.50) and Wisconsin-Oshkosh (139.03) in the national dual meet ranking. The poll is conducted by the U.S. Track & Field and Cross Country Coaches Association.
Augustana opened the 2011 season by winning 16 events at the Sol Butler Invitational in Dubuque, Iowa on Saturday, January 15. The Vikings followed that by winning five events at the Midwest Invitational in Monmouth, Illinois on Saturday, January 22. There were no team scores kept at either meet.
Olsen will take his team to Waverly, Iowa for the Wartburg Invitational this Saturday, January 29.
The first poll has a decided Midwest flavor as the top four teams, and five of the top six, in the nation are from the Midwest Region. A year ago the Vikings finished the 2010 indoor season ranked sixth nationally and they were third in the final outdoor poll.
2011 NCAA DIVISION III OUTDOOR POWER DUAL MEET POWER RANKING
Sponsored by the USTFCCA
As of 01/27/11
POLL #1
| | | | |
| --- | --- | --- | --- |
| RANK | SCHOOL | REGION | POINTS |
| 1. | North Central | Midwest | 150.50 |
| 2. | Wisconsin-Oshkosh | Midwest | 139.03 |
| 3. | Augustana | Midwest | 137.34 |
| 4. | Monmouth | Midwest | 128.72 |
| 5. | Nebraska Wesleyan | Central | 111.46 |
| 6. | Illinois Wesleyan | Midwest | 110.56 |
| 7. | Williams | New England | 110.42 |
| 8. | College of New Jersey | Atlantic | 109.19 |
| 9. | Marietta | Great Lakes | 108.88 |
| 10. | Ohio Wesleyan | Great Lakes | 107.24 |