Peters picked for Parkander Chair in Literature
January  27, 2011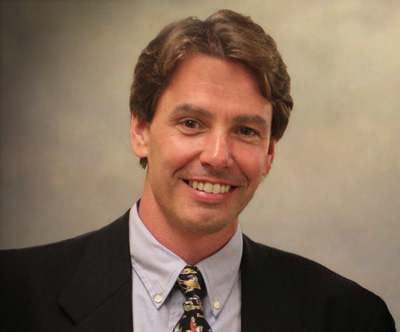 Dr. Jason Peters, new holder of the Dorothy J. Parkander Chair in Literature.
Dr. Jason Peters has been appointed as the Dorothy J. Parkander Chair in Literature, established in 2001 in honor of Dr. Dorothy Parkander '46, professor emeritus of English.
He assumes the position from Dr. Don Erickson, who came to Augustana in 1965 and is retiring.
Dr. Peters began teaching in the English department in 1996, just after Dr. Parkander retired after 49 years. "It didn't take long for me to become aware of Professor Parkander's reputation as an excellent lecturer, especially in Milton," Dr. Peters said. "I think of her example every time I teach Paradise Lost."
Dr. Peters has become a popular lecturer in the English department, much as Dr. Parkander was. "It is important to me — as I'm sure it was to her — that the lecture be preserved, especially in an age of highly theorized pedagogy. It's a great honor to hold a chair bearing the name of one who lectured so well and so effectively," he said.
Dr. Peters jokes that he decided to become a professor when he realized the Milwaukee Bucks were never going to draft him. But his second-choice career has worked out well.
"The truth, at least for me, is that most of teaching is a kind of play, like pick-up basketball in an old dusty gym or like baroque artistry. I enjoy seeing students take pleasure in good poetry and fiction."
His teaching interests include British and American Romanticism, Catholic fiction and environmental literature. In 2007 he published Wendell Berry: Life and Work (University Press of Kentucky), a collection of essays that illuminate Berry as a person and a scholar. He currently is working on a project on Owen Barfield, a British poet, author, philosopher and good friend of C.S. Lewis.
In addition to teaching and writing, Dr. Peters spends time working at Augie Acres, a student-run garden located on campus. He established the garden with his friend and colleague Dr. Charles Mahaffey in the spring of 2009. Although Dr. Peters' area of expertise is literature and Dr. Mahaffey's geography, the two professors share their commitment to local food production and sustainable living. They started the garden as part of their environmental learning community — two classes that approach the same topic from different perspectives. The project has grown exponentially (literally!) and now provides food to the campus dining halls, community farmer's markets and people in need.
The two also worked alongside students in renovating a home on 35th Street to reduce its ecological footprint. Local Culture House 1 houses juniors who are committed to sustainable living. Many of the house's sustainable features were purchased from local vendors, and current residents compost and maintain a small garden for their own use.
Through his involvement in Augie Acres and Local Culture House 1, Dr. Peters shows students that he practices what he preaches — and expects the same of them. Like Dr. Parkander, he takes seriously his responsibility as a teacher.
"Each new group of students reminds me that something I say could change a person's mind. And once a mind changes, there's no telling what else might also change. To me that's a bit scary. We have to approach education with a proper dose of fear."