January 25, 2011
2010-11 Season - Vikings drop contest against Illinois Wesleyan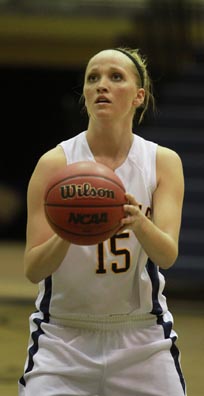 Brianna Skeens finished with seven points and seven rebounds for the Vikings in a loss to Illinois Wesleyan. She led all players with six offensive rebounds in 21 minutes of action.
ROCK ISLAND, Ill. – The Augustana women's basketball team played a strong first half, but was unable to hold off the Illinois Wesleyan offense in the final 20 minutes, dropping a 91-58 decision to the Titans on Tuesday, January 25 in Rock Island, Illinois.

Junior Brianna Skeens (Vernon Hills HS, Vernon Hills, Ill.) put Augustana on the scoreboard with a jumper at the 17:11 mark, and junior Whitney Miller (Clinton HS, Clinton, Iowa) later completed a three point play to cut the Titan lead to 7-5 at 16:01 of the opening half. The Illinois Wesleyan edge was still just two points when senior Kristen Fox (Ottawa HS, Ottawa, Ill.) poured in a bucket to cut the gap to 14-12 at the 13:12 mark.

The Vikings remained in striking range for much of the opening stanza never trailing by more than eight points over the first 17 minutes of action. The Blue & Gold clawed back from an eight point hole with a pair of free throws from sophomore Kristin Warnken (Centaurus HS, Erie, Colo.) and a basket from freshman Molly Etheridge (Normal Community HS, Bloomington, Ill.) to make the score 23-19 in favor of the visitors at the 5:43 mark.

The Titans quickly changed the momentum, riding a 9-0 spurt to a 32-19 advantage and eventually leading 34-24 at intermission. Miller knocked in a jumper and freshman Jessica Baids (West Chicago HS, Carol Stream, Ill.) tacked on a free throw for the final points of the first half.

Momentum seemed to shift Augustana's way as the Vikings crashed the boards with two straight offensive rebounds before Skeens knocked in a basket on the first possession of the second half, cutting the gap to 34-26. However, Illinois Wesleyan quickly scored to put the lead back into double digits and went on a 19-6 run to open up a commanding 53-32 advantage at the 15:05 mark.

Augustana was able to trim the deficit to 17 on two different occasions, but the Titans gradually extended the lead and pulled away for the road victory with another big scoring run late in the second half.

Although nobody reached doubles figures for the Blue & Gold, Miller, Fox, and Baids all finished with nine points. Skeens also added seven points and seven rebounds. Fox led all players with eight boards, helping Augustana finish with a 44-38 advantage on the glass.

The Vikings hit the road on Saturday, January 29 with a game at Elmhurst. Tip-off is scheduled for 5:00 p.m. Augustana is now 4-14 overall and 0-7 in the College Conference of Illinois & Wisconsin.

Story written by Assistant Sports Information Director Adam Strand