Writer brings women back into college history
January  25, 2011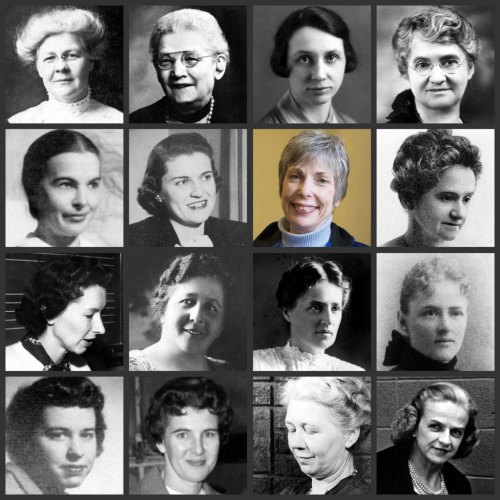 Dr. Ann Boaden (color photo) surrounded by some of her female subjects. (Augustana College Special Collections)
Ann Boaden finds hidden stories of female founders
About 10 years ago, Ann Boaden realized three things: 1. Women were missing from the written history of Augustana College; 2. Somebody needed to fix that;. 3. She was the somebody.
Reviewing manuscripts for the Augustana Historical Society, Dr. Boaden had noticed that women simply were not mentioned and she knew why.
"Typically, at the time, at least pre-1970s, women didn't occupy top-ranking administrative positions," she said, "so it tended to be presidents and deans shaping institutional history."
As an alumna and professor of English at Augustana, she also knew there was more to the story of the college.
"Powerful, deeply important, influential women shaped my college experience," she recalled. "And I knew from other alumni that that many, many students found their presence, in teaching and counseling, to be inspiring, even life-changing."
One afternoon over tea she explained her insight to retired Dean Betsey Brodahl, adding: "Someone needs to write a book about Augustana's women." Brodahl looked her in the eye and said: "Yes. Someone does."
Writing from experience
So began a project that will culminate this year with the release of Light and Leaven: Women Who shaped Augustana's First Century by Dr. Boaden. Along with two books on Augustana history written by former presidents Conrad Bergendoff and Thomas Tredway, Light and Leaven will encapsulate the college's history from its founding through 1975.
Dr. Boaden, who graduated from Augustana in 1967, also realized that she had the advantage of being able to write about Augustana's iconic women from personal experience. In addition to Dean Brodahl, she also knew Dr. Dorothy Parkander (the college's first Illinois Professor of the Year) and studied under Dr. Henriette Naeseth (the college's first woman Ph.D). They were her friends and mentors.
"I'm not an historian but all my life I've been a writer," Dr. Boaden said. "So as a writer I've attempted to recreate the experiences and personalities of Augustana's women. I felt I could write about the ways in which they were powerful, in the minds and the spirits of their students."
Help and support came from other college historians, including Dr. Roald Tweet and Dr. Tredway, who wrote a foreword to the book. He praises it as "both readable and reliable, both imaginative and substantive."

Light and Leaven covers the various eras from 1860-1960, examining what was happening at Augustana and in the educational world of America. "Within each of those eras I've tried to select the 'firsts' — first dean or first chair — but also to highlight some of the women who had been here so long and were so influential," Dr. Boaden said.
The first chapter, "The Early Years," shows Augustana's second president T.N. Hasselquist nudging the college toward co-ed institution and by the late 1880s actively recruiting women. The first woman, Inez Rundstrom, graduates in 1885, the same year the college hires its first female. Edla Lund, as "directress" of the Handel Oratorio Society. The number of women climbs slowly. When WWI ends, men still outnumber women almost two to one. In the late 1930s, women are about 45% of enrollment. WWII changes that: By 1941 the ratio of women to men is 2.5-1. Although the gender balance returns in the 1950s, women who found new dreams and new power in the war years never relinquished them.
Detective work in Special Collections
Researching the decades, Dr. Boaden became a regular in the Special Collections department of the Thomas Tredway Library. "I could not have done it without Special Collections, the helpfulness, the enthusiasm, of staff and students alike," she said. "Alumni also helped, providing their memories and varied perspectives."
She read stacks of presidential and faculty papers. But again, the women were absent "because if you don't donate your papers, then you're not represented," she said.

"I had to pry these little nuggets out by sifting through board and faculty minutes, old Observers and yearbooks. For example, I had no actual words from Anna Westman (second woman graduate, first woman instructor). But I found out she had been a member of a women's quartet, traced who the others were, and there, among the papers left by one of them, was one letter from Anna Westman! By such meandering ways I tracked these women."

She discovered interesting tidbits, such as the time that the first woman was elected editor of the Rockey-I - by a single vote.
"You kind of immerse yourself in the culture," Dr. Boaden said. "Not just Googling and instantly getting a fact."
New and surprising discoveries kept her working on the project — off and on — for 10 years. for instance, "Anna Olsson (an early instructor of English) — I had no idea she was a writer. And our first woman grad, Dr. Inez Rundstrom, became an important professor at Gustavus Adolphus College."
Dr. Boaden said the early women instructors and graduates worked hard to make a professional life for themselves. They struggled with low salaries and sometimes supported families. Anna Olsson's journal records her conflicts with domestic responsibilities and intellectual life. The same issues of a life/work balance are with us today, Dr. Boaden said, but now men and women share them.
The common thread in their stories, she said, was their courage and their willingness to adventure and dare and in doing so, to help shape the college. "They have become so alive to me," Dr. Boaden said. "They live in my heart in a way I never thought they would."