January 22, 2011
2010-11 Season - Myers finishes sixth in 3-meter diving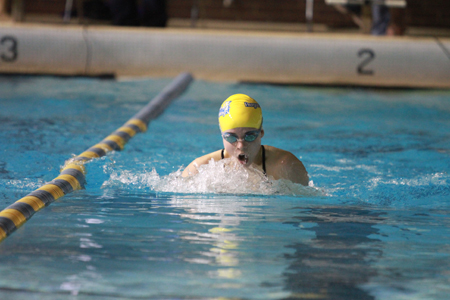 Emma Regnier finished 14th in the 100-yard butterfly Saturday at the Grinnell Invitational.
GRINNELL, Iowa - Freshman Helen Myers (Pecatonica HS, Rock City, Ill.) put up a total of 328.80 to finish sixth in the three-meter diving competition Saturday on the second day of the Grinnell Invitational. Teammate Tanya Walter, a junior (Prospect HS, Mt. Prospect, Ill.), was 11th in the same event with a total of 302.85.
In the swimming events, sophomore Emma Regnier (Grayslake North HS, Lake Villa, Ill.) and freshman Hillary Ferguson (Waubonsie Valley HS, Naperville, Ill.) each garnered 14th-place finishes. Regnier swam a 1:04.46 in the 100-yard butterfly and Ferguson finished the 50-yard freestyle in :25.98. Sophomore Molly Clennon (Benet Academy, Naperville, Ill.) finished 18th in the 200-yard freestyle with a time of 2:08.10.
Augustana's 400-yard freestyle relay team of Clennon, sophomores Mary Naughton (Fremont HS, Fremont, Neb.) and Alexandra Piper (Coal City HS, Coal City, Ill.) and Ferguson finished 14th in 3:54.99. The Vikings finished seventh in the 12-team field.