January 22, 2011
2011 Season - Mathieson leads Vikings at Midwest Invitational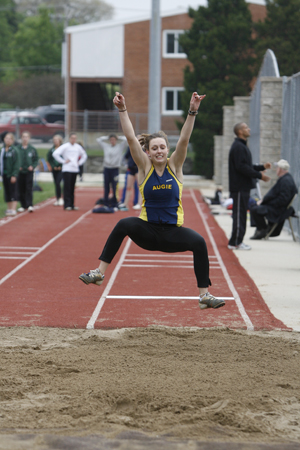 Ella Mathieson won the triple jump and took second in the long jump Saturday at Monmouth College's Midwest Invitational.
MONMOUTH, Ill.-Ella Mathieson (Lyons Township HS, LaGrange Park, Ill.) claimed a win in the triple jump and added a second-place finish in the long jump to lead Augustana at the Midwest Invitational Saturday at Monmouth College. Mathieson went 34' 7¾" to win the triple jump and 16' 5¾" in the long jump as the Vikings finished third in a five team field.
In addition to Mathieson, the Vikings got a second-place finish from Theresa Coverick (Stagg HS, Palos Park, Ill.), who ran a 5:39.71 in the mile. Coverick was also third at 3000 meters with a 11:15.18 clocking. Kierra Smith (Creston HS, Creston, Iowa), who ran a :09.07 in the 55-meter hurdles and Alexandra Blust (York HS, Elmhurst, Ill.) with a 1:03.88 at 400 meters each claimed second-place finishes as well. The Augustana distance medley team also finished second with a time of 14:00.86.
Reigning CCIW women's Track Athlete of the Week, Hannah Hottle (Monmouth-Roseville HS, Monmouth, Ill.) was third at 600 meters, finishing in 1:37.73. She established a new Augustana school record in the event, taking down the old mark of 1:39.87 set by former Viking All-American Kristy Windy in 1998.
Meaghan Reany (Lincoln-Way Central HS, New Lenox, Ill.) garnered a third-place finish as well, as did a pair of Viking relay teams. Reaney finished the 400 just 0:00.01 behind Blust, running a 1:03.89. The 4x400 and 4x200 relays ran 4:11.23 and 1:53.58, respectively.
Sarah Johnson (Grayslake North HS, Lake Villa, Ill.) was fourth in the mile with a time of 5:55.14 while teammates Kelsey Stockert (Peoria Notre Dame HS, Mapleton, Ill.) and Anita Maurer (Downers Grove North HS, Downers Grove, Ill.) ran 5:55.54 and 6:15.90 to finish fifth and eighth, respectively. Annie Heifner's (Oregon HS, Oregon, Wis.) 11:20.37 at 3000 meters was good for fourth. Tara Bistry (Joliet Catholic HS, Shorewood, Ill.) and Emma Grandgeorge (Sycamore HS, Sycamore, Ill.) were fourth and fifth at 5000 meters. Bistry finished in 20:43.77 and Grandgeorge in 21:11.03. In the pole vault, Kristy Klouda (West Chicago HS, Winfield, Ill.) cleared 8' 2½" to claim fourth place and Megan Lecander (Sherrard HS, Sherrard, Ill.) was seventh, going 7' 8½".
Johanna Schnitzler (Downers Grove South HS, Woodridge, Ill.) and Amy Walsh (Cary-Grove HS, Cary, Ill.) were fifth and sixth, respectively, in the 55-meter hurdles. Schnitzler ran a :09.55 and Walsh finished in :09.60. Liana Beauchamp (Genoa-Kingston HS, Kingston, Ill.) put the shot 36' 10¼" to finish fifth also. Beauchamp was also eighth in the weight throw with a heave of 40' 4¼". Walsh, Smith and Schnitzler claimed spots six through eight at 300 meters. Walsh ran :45.63, Smith :45.69 and Schnitzler :45.85.
Kristyn Barton (York HS, Elmhurst, Ill.) and Melissa Lehpamer (Plainfield South HS, Plainfield, Ill.) joined Hottle as place-winners in the 600. Barton took sixth place in 1:55.42 and Lehpamer was seventh in 1:59.15. In the 200, Valerie Bach (Palatine HS, Palatine, Ill.) was sixth in :28.94 and Cat Foreman (St. Joseph-Ogden HS, St. Joseph, Ill.) seventh with a time of :29.05.
Stockert and Britton Dallas (International School of Indiana, Indianapolis, Ind.) were seventh and eighth in the 800, running 2:40.65 and 2:44.14, respectively. Kelsey Moon (Mundelein HS, Wauconda, Ill.) and Samantha Bazely (Alleman HS, Coal Valley, Ill.) each garnered seventh place finish as well with Moon running 1:08.89 in the 400 and Bazely going 15' 4¼" in the long jump.
A pair of Vikings tied for eighth in the high jump with Jennifer Prazak (Naperville North HS, Naperville, Ill.) and Megan Garvey (Naperville North HS, Naperville, Ill.) each clearing 4' 7½".
Next Saturday, January 29, Augustana travels to Waverly, Iowa to compete in the Wartburg Triangular. Starting time is scheduled for 11:00 a.m.