January 22, 2011
2010-11 Season - Vikings 17-0 with 66-50 win over North Central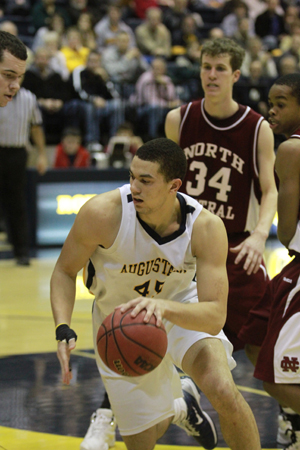 Kameron Norton's career-high 12 points helped Augustana move to 17-0 on the season and 6-0 in the CCIW.
ROCK ISLAND, Ill. - On a night when its usual scoring threats were held in check, Augustana relied on its defense, rebounding and bench strength to defeat North Central by a score of 66-50 at Carver Center Saturday. The win, the Vikings' 17th straight to open the season, secured the best start in school history. It also ties the second longest streak ever at Augustana, matching a string of victories by the 1971-72 club.
North Central came into the game having won five of its last six games and just a game behind the Vikings in the CCIW standings. The Cardinals took an early 9-5 lead on a pair of free throws by freshman Landon Gamble less than four minutes in. A Kyle Nelson (Deerfield HS, Deerfield, Ill.) basket a minute later regained the lead for the Vikings at 10-9, but it would bounce back and forth for much of the rest of the first half.
Augustana was able to put some distance between the teams with an 8-0 run late in the first half. Clinging to a 24-23 lead with just over four minutes left, the Vikings got a tip-in by Luke Scarlata (Morton HS, Berwyn, Ill.), two free throws each from Troy Rorer (Bettendorf HS, Bettendorf, Iowa) and Kameron Norton (Downers Grove North HS, Downers Grove, Ill.) and a beautifully executed inbounds give-and-go from Brandon Kunz (Lake Zurich HS, Lake Zurich, Ill.) to Chris Anderson (West Carroll HS, Mt. Carroll, Ill.) to extend the margin to 32-23. A bucket by Cardinal freshman Jack Burchett put the Viking lead at 32-25 at intermission.
A basket by Gamble and a Derek Raridon free throw cut the margin to 32-28 a minute into the second half. However, Augustana responded with a 10-0 run bookended by conventional three-point plays by George Dexter (Bettendorf HS, Bettendorf, Iowa) at the front end and Norton at the back end to make it 42-28 with 15:19 to play.
The Cardinals would make just one more run, cutting the lead to 48-41 with 10:45 left, but buckets by Rorer and Brian DeSimone (Buffalo Grove HS, Wheeling, Ill.) put the margin back in double digits for good. It eventually reached 19 before a late North Central three-pointer made the final 66-50.
Augustana held the Cardinals to just seven field goals on 24 attempts (.292) and outrebounded them 25-16 in the second half. Bryant Voiles (Byron HS, Byron, Ill.), who finished one point short of a double-double, snared all 10 of his rebounds in the second stanza. DeSimone scored 10 of his game-high 13 points in the second half as well. Norton added 12 points on 3-of-3 field goal and 6-of-7 free throw shooting and Kunz hauled in seven rebounds in just 11 minutes of action. Rorer and Anderson each had four of the Vikings' 18 assists.
The Vikings, now 17-0 overall and 6-0 in the CCIW, return to Carver Center on Wednesday, January 26, to take on Illinois Wesleyan. The Titans are 13-4 overall and tied for second place in the conference with North Central at 4-2. Tip-off is scheduled for 7:30 p.m.