January 22, 2011
2010-11 Season - Vikings edged in final minute by Cardinals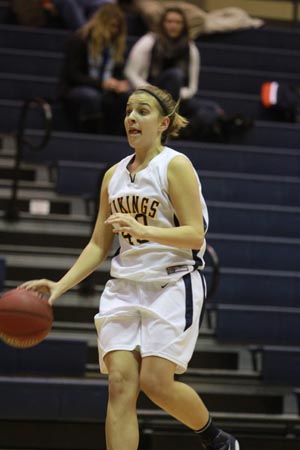 Jessica Baids came off the bench to score 10 points for the Vikings in a 68-64 loss to North Central. She keyed a crucial second half rally and also snared seven rebounds in 22 minutes of action.
ROCK ISLAND, Ill. – The Augustana women's basketball team led by two at halftime and then battled back from a double digit deficit in the second half before being edged in the final minute by North Central on Saturday, January 22 in Rock Island, Illinois. The Cardinals scored the final four points of the contest to pull out a 68-64 road win.
Junior Whitney Miller (Clinton HS, Clinton, Iowa) opened the scoring with a jumper on Augustana's first possession, a sign of good things to come as she would finish the half with 12 points. Sophomore Kristin Warnken (Centaurus HS, Erie, Colo.) followed with a three point field goal to give the Vikings a quick 5-0 cushion.
North Central responded by scoring the next nine points to move in front, but freshman Molly Etheridge (Normal Community HS, Bloomington, Ill.) dropped in a pair of trifectas to give the Blue & Gold an 11-9 lead at the 12:12 mark. Augustana was able to stay even or out in front the rest of the first half, with the biggest advantage at 21-16 and 23-18. There were three ties in the opening stanza, the last at 30-30 before senior Kristen Fox (Ottawa HS, Ottawa, Ill.) converted a pair of free throws with 34 seconds remaining to give the Vikings a 32-30 edge at intermission.
Miller keyed the offensive attack by knocking down six of her eight shot attempts and also tallying four assists without a single turnover in 16 minutes of action. Etheridge provided a spark off the bench with eight points.
The game remained tight in the beginning of the second half, with neither team able to grab more than a two point advantage until a 13-2 spurt from the Cardinals helped the visitors leap out to a double digit lead. The game was knotted at 36-36 at the 17:08 mark, but Augustana quickly found itself behind 49-38 just minutes later.
The deficit was still 11 at 51-40 with 11:46 to play when the Vikings made a run. Freshman Jessica Baids (West Chicago HS, Carol Stream, Ill.) started the rally with a jumper at the 10:11 mark. She followed with another basket and Warnken nailed a three pointer as the Blue & Gold crept within 51-47. Baids came back with another bucket and then grabbed a defensive rebound before assisting on a bucket by Etheridge to tie things up at 51-51 at the 7:49 mark.
Fox buried a three pointer a couple minutes later as Augustana finally moved back ahead 56-53 with just over five minutes left in the game. A 9-1 spurt for the Cardinals once again put the Vikings in a tough spot, but Warnken responded with five straight points to even the contest at 62-62, the 10th tie of the night with 1:34 remaining. The game was deadlocked one final time on a Fox jumper at the 1:09 mark, making the score 64-64. North Central was able to knock down a three point basket and a late free throw to account for the final margin.
Etheridge led all scorers with 15 points, playing 29 minutes and picking up five assists and four offensive rebounds. Fox finished with 14 points and nine rebounds, leading both teams in that category. Miller had 12 points and a game-high eight assists with only one turnover in 29 minutes on the floor. Warnken was also in double figures with 11 points and had a trio of three point field goals. Baids came through with some clutch baskets during the second half rally and finished with 10 points and seven rebounds.
The Vikings finished with a 46-33 advantage on the boards and also finished with 19 assists and only 15 turnovers.
With the loss, the Blue & Gold fall to 4-13 overall and 0-6 in the College Conference of Illinois & Wisconsin. Augustana will return to action on Tuesday, January 25 with a home game against Illinois Wesleyan. Tip-off is set for 7:30 p.m.
Story written by Assistant Sports Information Director Adam Strand