January 21, 2011
2010-11 Season - Vikings are in seventh after first day at Grinnell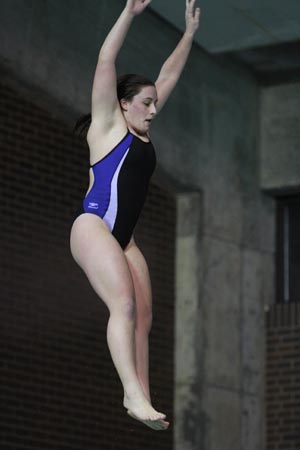 Helen Myers finished seventh in the one meter diving event to lead Augustana's effort in the first day of competition at the Grinnell Invitational.
Freshman diver Helen Myers (Pecatonica HS, Rock City, Ill.) and the 200 freestyle relay team spearheaded the Augustana performances at the first day of the Grinnell Invitational on Friday, January 21 in Grinnell, Iowa. The Vikings scored 142 points and are currently in seventh place in the 12 team meet. Nebraska-Omaha leads the meet with 613.5 points.
Myers finished seventh in the one meter diving event with a score of 325.20. The 200 freestyle relay team of sophomore Alexandra Piper (Coal City HS, Coal City, Ill.), sophomore Mary Naughton (Fremont HS, Fremont, Neb.), sophomore Molly Clennon (Benet Academy, Naperville, Ill.) and freshman Hillary Ferguson (Waubonsie Valley HS, Naperville, Ill.) took eighth with a time of 1:44.66.
Sophomore Emma Regnier (Grayslake North HS, Lake Villa, Ill.) finished ninth in the 200 butterfly in 2:27.36 and junior Tanya Walter (Prospect HS, Mt. Prospect, Ill.) was 11th in the one meter diving with a score of 294.05.
The 800 freestyle relay team of Clennon, Ferguson, sophomore Emily Timmons (West Aurora HS, North Aurora, Ill.) and Regnier took 11th in 8:47.18. The 400 medley relay of junior Colleen Mans (Robbinsdale Cooper HS, New Hope, Minn.), Timmons, Regnier and Piper placed 17th in 4:33.18.
Ferguson was 18th in the 100 freestyle (:57.47), Timmons was 20th in the 200 breaststroke (2:47.82) and Regnier took 20th in the 200 individual medley (2:26.11).