January 21, 2011
2010 Season - Zac Connors named offensive coordinator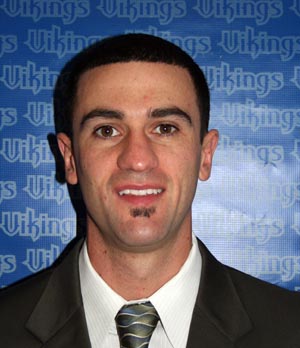 Zac Connors will take over as the offensive coordinator for the Vikings.
It didn't take long for Augustana head coach Rob Cushman to find the person he was looking for to handle the offensive coordinator's responsibility heading into the 2011 season. Cushman announced today that Zac Connors has been hired, effective immediately.
"Zac comes to us highly recommended," said Cushman who was named head coach at Augustana on November 24, 2010. "He played and coached at a high level and we look at him as somebody who will be able to elevate our offense and impact the program in a positive manner."
Connors spent the last 10 months as an assistant coach in charge of wide receiver and special teams' coordinator at Diablo Valley Junior College in Pleasant Hill, California. He helped lead the Vikings to an 8-3 overall record and a berth in the Graffiti Bowl.
Prior to working at Diablo Valley, Connors served for four seasons as a graduate assistant on the staff at the University of Utah. He was part of four straight bowl games with the Utes, including the 2008 season when Utah finished 13-0, won the Sugar Bowl and ended up ranked second in the nation according to the final Associate Press poll.
"I am excited to get going," said Connors. "I was looking for a four year school where I could step in and have an impact. To find a place such as Augustana, which has established such a great tradition, was a great break for me. I look forward to being accountable to what our offense is going to be asked to accomplish."
Despite his youth, Connors has a wealth of experience in the spread-option offense that he learned at both Utah and Diablo Valley.
"I look forward to getting together with both the coaching staff and the players and setting forth a plan," said Connors. "We will work on an order of operations and we will understand that while the players are going to be undergoing a learning curve, there will be one for me as well."
Connors played two seasons as quarterback at Southern Utah University, serving as team captain in his senior year of 2005, and also a year each at St. Mary's and Mt. San Antonio College. He played quarterback at Clayton Valley High School in Concord, California and was co-MVP and team captain in his senior season of 2000.
He received his bachelor's degree in physical education from Southern Utah in 2006 and is currently working on his master's degree from the University of Utah.