January 20, 2011
2010-11 Season - Three wrestlers are ranked nationally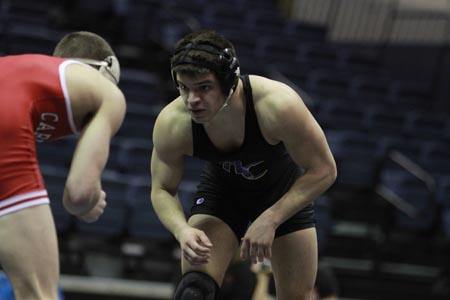 Sophomore Greg Gogonas is one of three Vikings who are currently nationally ranked in their respective weight classes by d3wrestling.com. Gogonas is 16-12 at 133 pounds.
Three Augustana wrestlers are currently drawing recognition in the latest NCAA Division III individual ranking according to d3wretle.com. Freshman Jacob Scholten (Rockford HS, Grandview, Mich.), sophomore Greg Gogonas (Bowie HS, Austin, Texas) and junior Alberto Quiros (Morton East HS, Cicero, Ill.) have jumped into the top 25 in their respective weight classes.
Scholten, who sports a 25-4 mark, is currently 14th at 125 pounds, Gogonas is 23rd at 133 with his 16-12 mark while Quiros, 25-6, is 22nd at 141 pounds.
Both Scholten and Gogonas won individual titles at the Central of Iowa Invitational on Saturday, January 15 in Pella, Iowa. Scholten took the 125 pound weight class with a 1-0 win over Venel Rene of Waldorf in the championship bout. Quiros defeated Kirk Sallis of North Iowa 7-3 in the title match at 141 pounds. Gogonas placed fourth at 133 pounds.
Augustana is currently 7-4 overall in dual meets and the Vikings defeated the University of Chicago on Wednesday, January 19 with both Scholten and Quiros picking up victories while Gogonas did not wrestle.