January 19, 2011
2010-11 Season - Vikings move to 7-4 with win at Chicago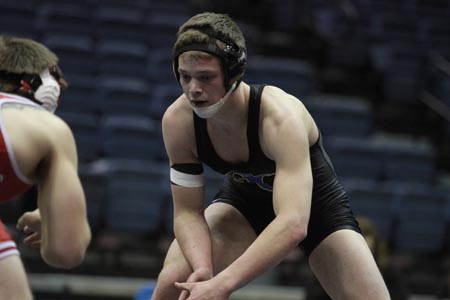 Justin Hoffman was one of two Vikings to record pins as Augustana defeated Chicago 31-10 to move to 7-4 on the season.
After dropping three dual meets to the University of Chicago over the past two seasons, the Vikings put one in the victory column against the Maroons in a big way on Wednesday, January 19. Augustana won seven of 10 weight classes to defeat Chicago 31-10.
In the process, head coach Eric Juergens' team moved its record to 7-4 on the season. It was an impressive win for the Vikings, including pins at 157 by Justin Hoffman (East Buchanan HS, Winthrop, Iowa) and 197 by Hunter Feraco (Gull Lake HS, Battle Creek, Mich.).
Jacob Scholten (Rockford HS, Grandville, Mich.) got things started at 125 with an 8-2 victory over Jake Schramm. Scholten, who was coming off a title performance at the Central of Iowa Invitational on Saturday, January 15, moved his record to 25-4.
Bradley McDermott (Davenport Assumption HS, Davenport, Iowa) won by forfeit at 133 and Alberto Quiros (Morton East HS, Cicero, Ill.) destroyed Matt Hart at 141 by a score of 20-7. Quiros, who also won his weight class at the Central of Iowa Invitational, is now 25-6 this season.
After a loss at 149, Hoffman got the Vikings back on track by pinning Donovan Sarno at 3:54 in the 157 pound weight class. Jordan Graham (Big Rapids HS, Fremont, Mich.) beat Josh Lowy 4-2 at 165 to move to 20-8 on the year. Alex Vavra (Gull Lake HS, Dowling, Mich.) beat Takumi Mihama 6-1 at 174 and is now a team-leading 27-8.
The Vikings lost at 184 and 285 but in between those two weight classes Hunter Feraco (Gull Lake HS, Battle Creek, Mich.) pinned Jeff Tyburski at 5:31 at 197 pounds. Feraco is now 19-10 on the year.
125: Jacob Scholten, Augustana def. Jake Schramm 8-2
133: Bradley McDermott, Augustana won by forfeit
141: Alberto Quiros, Augustana def. Matt Hart 20-7
149: Jacob Smith, Chicago def. Mitch Musgrove 5-0
157: Justin Hoffman, Augustana won by fall over Donovan Sarno 3:54
165: Jordan Graham, Augustana def. Josh Lowy, 4-2 (sv 1)
174: Alex Vavra, Augustana def. Takumi Mihama 6-1
184: Sam Pennisi, Chicago def. Ian Knepshield 8-0
197: Hunter Feraco, Augustana won by fall over Jeff Tyburski 5:31
285: Ryan Hatten, Chicago def. Tim Day 7-3
Augustana is now 7-4 on the season.