January 19, 2011
2010-11 Season - Vikings equal best start in school history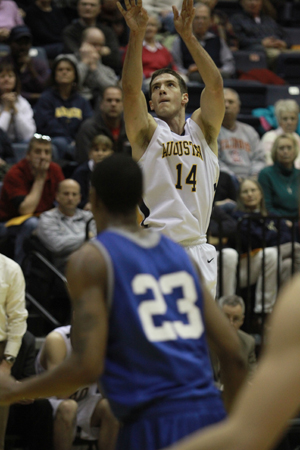 Drew Croegaert scored a career-high 10 points as Augustana defeated Millikin 72-58 at Carver Center Wednesday night to eqaul the best start in school history at 16-0.
ROCK ISLAND, Ill. - Bryant Voiles (Byron HS, Byron, Ill.) led a balanced Augustana attack with 13 points and Drew Croegaert (Geneseo HS, Geneseo, Ill.) added a career-high 10 as the Vikings cruised to a 72-58 win over Millikin Wednesday at Carver Center. With the win, coach Grey Giovanine's club improves to 16-0, equaling the best start in school history, previously established by the 1935-36 Vikings. Augustana also sits alone atop the CCIW standings at 5-0. Millikin falls to 1-14 overall and 0-5 in the league.
The Vikings took the lead on a long Brian DeSimone (Buffalo Grove HS, Wheeling, Ill.) two-pointer a minute and a half in and went on to lead wire-to-wire. Millikin narrowed the gap to one on two occasions in the opening six minutes, but Augustana stretched the margin to double digits for the first time (19-9) on a Kyle Nelson (Deerfield HS, Deerfield, Ill.) bucket with 10:21 on the clock.
From there the lead grew steadily, reaching 32-16 on another Nelson bucket at the 6:38 mark. A Kameron Norton (Downers Grove North, Downers Grove, Ill.) basket with just over a minute left pushed the Viking advantage to 45-22 at the break.
The margin reached as much as 27 in the second half and was still 22 when Giovanine went deep into his bench with 10 minutes left.
Big Blue freshman Jacob Shasteen knocked down three treys down the stretch and a Matt Merrigan triple with 40 seconds left got Millikin as close as it would get at 69-58. Norton drained the first three-pointer of his career with the shot clock winding down to account for the final margin.
Augustana connected on .545 (24-44) from the field, .438 (7-16) from long range and .708 (17-24) from the free throw line in one of its better shooting performances of the season. The Vikings also held a 30-24 edge on the glass while turnovers were even at 15. Millikin's 58 points were the most surrendered by Augustana in CCIW play this season and the Big Blue also became the first conference foe to hit the 40 percent mark from the field, hitting 22 of 49 for a .449 percentage.
13 Vikings cracked the scoring column. After Voiles and Croegaert, Nelson had eight, Norton seven and George Dexter (Bettendorf HS, Bettendorf, Iowa) six. DeSimone, Mike Avallone (Neuqua Valley HS, Naperville, Ill.) and Luke Scarlata (Morton HS, Berwyn, Ill.) each scored five. Norton corralled a team-high five rebounds and Troy Rorer (Bettendorf HS, Bettendorf, Iowa) led the Vikings with four assists.
Next up for Augustana is a big matchup against North Central at Carver Center on Saturday, January 22. The Cardinals are 8-8 overall, but at 4-1 trail the Vikings by just a game in the conference standings. Tip-off is scheduled for 7:30 p.m.