January 2011
Winning Vikings basketball–brought to you live by Sand and Ford
Combine a friendship that goes back 35 years with a passion for Augustana basketball. Throw in a level of frustration at not being able to follow the Vikings. Add to that the expanding technology of the internet. The result is a series of highly entertaining webcasts of Vikings' men's basketball—courtesy of Dan Sand and Chris Ford '86.
Sand and Ford began their friendship as youngsters at John Deere Junior High in Moline. At the time, Sand was a regular in Carver Center as his future brother-in-law, Barry Nelson, was the starting point guard for legendary head coach Jim Borcherding's 1976-77 team.
Ford attended Augustana, where he majored in political science and public administration, and met his wife Laura, now the college's director of human resources. He and Sand remained friends and regularly made the trip to Carver to see games.
Eventually the two decided to explore broadcasting, though it took a couple years before they approached Augustana with the idea. "Waiting for the 10 o'clock news for game scores was painstaking," says Ford. "The advent of the internet allowed for many schools to start posting Livestats and some broadcasts of their sporting events."
"It is great to have two guys as informed about Augustana basketball and enthused about our college, carrying our broadcasts and message to the public," says Coach Grey Giovanine. "They are professional and entertaining at the same time."
A broadcast is equal parts Ford's play-by-play and Sand's background information, gleaned from hours of research and fueled by his longtime interest. Ford is amazed at the preparation his partner brings to each broadcast. "Dan Sand is a treasure trove of Augustana sports trivia," he says. "He is the perfect person to work with because his recall of names and dates is amazing. He has us well prepared for each broadcast."
While followers of Augustana have benefitted greatly from the broadcast, currently available on www.hearitfromhome.com, Sand and Ford have taken away a new respect for the work that goes into building a nationally ranked program like the Vikings (currently 16-0 and ranked eighth in NCAA Division III).
"It has been great to get a close-up look at how the program runs from recruiting to game preparation," says Sand, who also works as a part-time assistant in the Augustana sports information department. His partner agrees. "I am amazed at the dedication that surrounds this basketball program," adds Ford. "One of our 'perks' is being able to ride the team bus, and we have learned how much work Coach Giovanine and his staff put in that is not seen by the average person. We also are impressed with the way the players conduct themselves and treat us so nicely."
By Dave Wrath
Field Notes
Field Notes illustrates different kinds of experiential learning that take us places off campus. This issue draws attention to the Augustana Photo Bureau through the work of photographer and photo bureau member Matt Peters '11.
During the 2009-10 academic year, political science major Matt Peters spent the year studying at Jagiellonian University in Krakow and traveling through Poland. This photo journal documents some of the people and places he encountered during his trip to the country of his ancestors.
To see more of Matt's work and photographs by other members of the Augustana Photo Bureau, attend the fourth annual Augustana Sights and Sounds exhibition at Bucktown Center for the Arts, downtown Davenport, from 6-9 p.m. on Friday, January 28. The free exhibit features music by Augustana students, photography by members of the photo bureau as well as local high school students, and—new this year—videography by Augustana students. Students featured in the show are John Cairns, Dana Gustafson, Corynn Hanson, Keyana Kirkland, Amanda Kriegl, Jonathan Manke, Mark Marogil, Maren Mathisen (manager), Matt Peters and Alina Piotrowski.
The Augustana Photo Bureau was established in 2005 to support the publications, events, news and online needs of Augustana's Office of Communication and Marketing. Under the direction of Marla Alvarado-Neuerburg, the photo bureau has grown to support other departments and special events on campus. Many of the photographs you regularly see in this and other campus newsletters, on our website and in our publications, were taken by student photographers in the photo bureau.
New Face on Campus
Dr. Dennis White, Director of Safety and Security
B.S., criminal justice, University of Nebraska at Omaha
M.A., public affairs, University of Iowa
Ed.D., Argosy University, Illinois School of Professional Psychology
Dennis White says it was "pure luck" that brought him to the Department of Safety and Security at Augustana. He did not grow up in the area. (Actually, he split his childhood among Florida, Colorado, South Dakota, Ohio, New Hampshire and Connecticut.) However, he and his wife of 37 years, Judith Deierling White, have maintained a home in or around Buffalo, Iowa, since 1975, so he was familiar with the college. When he saw an ad for the position, he decided to apply.
There is virtually no aspect of campus life that Dennis' work does not touch. Security staff training, campus-wide safety policies, emergency response procedures, safety equipment maintenance... all of these fall within his jurisdiction. Fortunately, Dennis has the experience and cool mindset to take everything in stride. "My main responsibility is the safety and security of students, faculty, staff and visitors of Augustana," he says. From there, the rest falls into place.
Dennis is retired from the U.S. Department of Urban and Housing Development where, among other tasks, he directed a program that sold homes in "revitalization areas" to teachers and police officers for half of their appraised price. He also is a retired lieutenant colonel from the Military Police Corps, U.S. Army Reserves.
When he is not keeping tabs on life at Augustana, Dennis enjoys spending time with his two adult daughters, Amanda and Alecia, and spoiling his grandson, Noah. Amanda is the assistant artistic director of the William Inge Center for the Arts in Independence, Kansas. Alecia is a teacher at Longfellow Liberal Arts School, just two blocks from her dad's office. Both Amanda and Alecia also are professional actors who worked in New York City for many years.
Dennis says that, so far, the most challenging part of his new job has been "getting to know all of the players and their roles at Augustana." However, he also believes it is the most rewarding part.
"I can honestly say that I have never met a more genuinely friendly and committed group of professionals," he says. "I'm truly looking forward to working with the many wonderful folks here."
By Chris Hedlin '11
From the Cabinet
Paul Pearson, Vice President for Business and Finance

Old Main: a beautiful package, so far
We're wrapping up final painting on selected portions of the Old Main dome structure, and as January ends the building scaffolding will be disassembled and removed. A winter hiatus will then be declared for the project. Warmer spring weather will not only raise collective spirits; it also will bring the return of workers to apply the final stone sealing and to install the exterior lighting package.
For Old Main aficionados (and aren't we all), just as exciting as tying the bow on the exterior construction phase is the official opening of the door for planning on the interior phase. The architectural and engineering contract for the interior planning has been awarded to BLDD Architects. Currently, building stakeholders are meeting with our architectural partners to finalize departmental layouts, which ultimately will lead to the creation of construction documents. As part of the planning process, logistics and financial analyses are under way to determine the viability of a one-phase approach to the interior work. Previously, we had contemplated two vertical phases. If deemed suitable, the reduction by one phase could reduce costs, increase project efficiency, and shorten campus discombobulation as the reinvigorated building could be put back into service 12 months sooner.
The project planning team is tentatively targeting May 2012 for construction commencement. A decision to proceed with interior renovation is contingent upon fully funding the project through donor support.
Tredway Library: taking the long view on window replacement
Sadly, we have found it necessary to replace the windows in the library a few decades ahead of a normally anticipated schedule. Anyone in the vicinity of the campus Quad has noticed the scaffolding now adorning the building, and the project team has truly appreciated the incredible level of cooperation and patience exhibited by our students and staff. Please bear with us a while longer, as the project will be active throughout the remainder of the winter term.
On the other hand, happily, the window replacements will quell concerns about the long-term structural sanctity of our campus "living room"—as the building was termed by President Emeritus Tom Tredway when it was built—and the inherent gains in efficiency with the new windows may reduce consternation created by the uninvited early replacement.
In the Works
Director of Human Resources Laura Ford shares the latest in a perennial series of information and wisdom pertaining to being an employee at Augustana College.
I'm pleased to announce a new employee handbook has been drafted and approved by the Cabinet and is currently being printed. This handbook will be for all staff and administrative employees and should be a source of clear information about the policies and procedures we have in place.
This handbook will replace all former handbooks—as well as other policy documents, emails and the like—that you might have received in the past. Each employee will receive a printed copy and in the very near future you'll be able to access an electronic version at www.augustana.edu/employeehandbook. I'll send an email to all when this link is active.
Since there is so much new information, the HR team will be holding a series of meetings to educate everyone about policy updates and changes, as well as answer questions. These mandatory meetings will be held at a variety of times and locations to ensure everyone will be able to attend with little disruption to normal activities. I'll be in touch soon with the details on meeting locations and time options, and look forward to working with each of you in the New Year.
Seen and Heard
"The celebration is about keeping the memory and the hope alive, helping the young, and keeping what MLK did in the forefront of our minds."

—Ametra Carroll,
chair of the religious affairs committee of the NAACP Community in Rock Island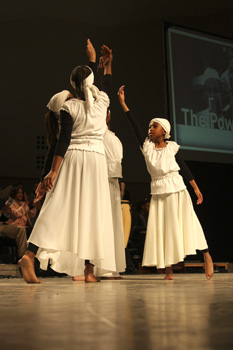 Young dancers at The Power of One community celebration of Martin Luther King, Jr., held at Centennial Hall on January 15.
Acknowledge is published by the Office of Communication and Marketing. Contact Beth Roberts, editor. Photos in this issue were contributed by Maren Mathisen '12, Matt Peters '11 and Alina Piotrowski '14 of the Augustana Photo Bureau, as well as Dalsem Yang '09 and Brandon Gittleman '12. To see the calendar of upcoming Augustana events, go to www.augustana.edu/calendar.