January 18, 2011
2011 Season - Hottle named CCIW track athlete of week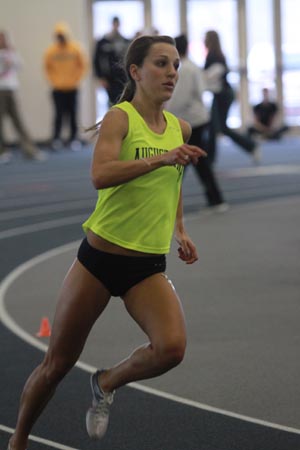 Senior Hannah Hottle was selected as the track athlete of the week in the CCIW after her performance at the Sol Butler Classic on Saturday, January 15 in Dubuque, Iowa.
Augustana senior Hannah Hottle (Monmouth-Roseville HS, Monmouth, Ill.) has been selected as the "Women's Track Athlete of the Week" for women's track & field in the College Conference of Illinois & Wisconsin, it was announced today.
Hottle placed second in the 600 at the University of Dubuque Sol Butler Classic, which was held on January 15 at Chlapaty Recreation and Wellness Center with a time of 1:40.16.
Hottle, a team captain, begins the 2011 indoor track and field season with a rather lengthy list of accomplishments as an Augustana runner. In cross country, Hottle has been named the team's Most Valuable Runner each of the past two seasons. As a freshman, Hottle was also named the team's most valuable freshman.
This past season, she was elected as one of two team captains. Hottle has also had great success on the track in previous seasons. She is the school record holder in the 3000 meter steeplechase with a time of 11:30.95. She is also a member of the school record 3200 meter relay team, who were clocked in a time of 9:21.93. As a freshman, Hottle was named the team's Most Valuable Freshmen and during last year's indoor season, she was named the team's MVP.
Last year during the outdoor season, Hottle was a national meet qualifier in the 800 meter run with a time of 2:13.82. The team MVP a year ago, Hottle placed third in the 800 at the CCIW Conference meet.
The daughter of Buff and Tammi Hottle of Monmouth, Hannah is a biology major.