January 18, 2011
2010-11 Season - Sholten earns CCIW recognition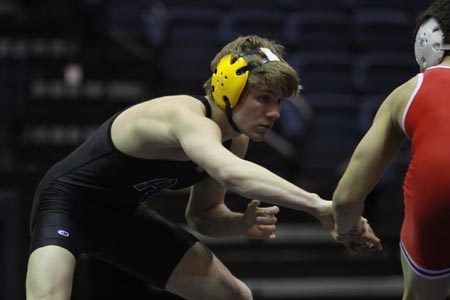 Freshman Jacob Scholten was named the "Wrestler of the Week" in the CCIW after winning the 125 pound weight class at the Central of Iowa Invitational on January 15.
Augustana freshman 125 pounder Jacob Scholten (Rockford HS, Grandville, Mich.) has been selected as the "Wrestler of the Week" in the College Conference of Illinois & Wisconsin for the week ending January 16. Scholten was tremendous last week for the Vikings as he was unbeaten in four matches.
Scholten started the week with a 4-1 victory over Nick Santos of North Central in a dual meet against the Cardinals at home on Thursday, January 13.
He followed that performance with a sterling outing at the Central of Iowa Invitational on Saturday, January 15 in Pella, Iowa. Scholten won the 125 pound weight class with a perfect 3-0 record.
Scholten was the number one seed in the field at 125 pounds and he lived up to his billing by winning three matches en route to the title. He opened with an 18-1 technical fall over Andrew Angelbeck of Missouri Baptist in the opening round and then beat Eric Thavonekham of Grand View 5-2 in the semi-finals. In the championship match he squeezed out a 1-0 win over third seeded Venel Rene of Waldorf. Scholten is now an impressive 24-4 on the season.
The son of Bob McDowell and Jeannet Scholten of Grandville, Michigan, Jacob is a pre-law major at Augustana.