January 15, 2011
2011 Season - Klouda wins pole vault at Sol Butler Classic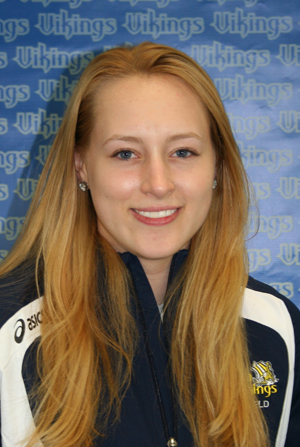 Senior Kristin Klouda cleared 8' 0" in the pole vault Saturday to win the event at the University of Dubuque's Sol Butler Classic.
DUBUQUE, Iowa - Senior Kristin Klouda (West Chicago HS, Winfield, Ill.) won the pole vault to give the Augustana women's track & field team its lone winner at the Sol Butler Classic on Saturday, January 15 in Dubuque, Iowa. It was the opening meet of the 2011 season for veteran head coach Fred Whiteside's Vikings and they turned in some stellar performances at A.Y. McDonald Indoor Track on the campus of the University of Dubuque.
No team scores were kept in the meet but Whiteside's team certainly turned in plenty of strong performances. Klouda cleared 8'00" in the pole vault to win the event and her fellow senior Megan Lecander (Sherrard HS, Sherrard, Ill.) took second, also clearing 8'00".
The Augustana distance and middle distance runners enjoyed success throughout the day, including three runner-up finishes. Senior Hannah Hottle (Monmouth-Roseville HS, Monmouth, Ill.) placed second in the 600 with a time of 1:40.16. Sophomore Annie Heifner (Oregon HS, Oregon, Wis.) was second in the 1000 in 3:21.68 and sophomore Theresa Coverick (Stagg HS, Palos Park, Ill.) ran 11:21.49 to take second in the 3000.
In addition, the distance medley relay team was second in 13:58.23 and the 1600 relay placed second in 4:14.62. The 800 relay finished third with a time of 1:57.25.
Sophomore Tara Bistry (Joliet Catholic HS, Shorewood, Ill.) ran 11:42.09 and was fourth in the 3000. Freshman Amanda Pease (United Township HS, East Moline, Ill.) took fifth in the 800 in 2:51.42. Freshman Britton Dallas (International School of Indiana, Indianapolis, Ind.) nailed down sixth in the 1000 in 3:40.75. Freshman Angela Norton (Mundelein HS, Mundelein, Ill.) placed seventh (3:46.61) and freshman Lauren Buck (Guilford HS, Rockford, Ill.) was eighth (3:55.42) in the same event.
Senior Amy Walsh (Cary-Grove HS, Cary, Ill.) sped to a sixth place finish in the 400 in 1:05.43. Sophomore Sarahbeth Jones (Warren Township HS, Wadsworth, Ill.) finished eighth in the 600 in 1:45.30 while freshman Allison Nagy (Neuqua Valley HS, Naperville, Ill.) placed eighth in the 800 in 3:10.31. Junior Sarah Johnson (Grayslake North HS, Lake Villa, Ill.) took eighth in the mile with a time of 5:52.45. Freshman Emma Grandgeorge (Sycamore HS, Sycamore, Ill.) placed eighth (12:16.96) in the 3000.
Freshman Kierra Smith (Creston HS, Creston, Iowa) took fifth in the 55 hurdles with a time of :09.22 while freshman Johanna Schnitzler (Downers Grove South HS, Woodbridge, Ill.) placed sixth in :09.56. Walsh was eighth in the same event with a time of :09.70.
Senior Ella Mathieson (Lyons Township HS, LaGrange, Ill.) placed fourth in the long jump with a leap of 16' 3 ¼". Sophomore Samantha Bazely (Alleman Catholic HS, Coal Valley, Ill.) took fifth with a jump of 15' 4" and freshman Lauren Schneiderbauer (Sterling HS, Sterling, Ill.) was seventh with a mark of 15'0". Bazely was also fifth in the triple jump at 30' 6 ¼" and Schneiderbauer cleared 4'9" in the high jump to take sixth. Senior Megan Garvey (Naperville North HS, Naperville, Ill.) finished seventh in the high jump (4'7").
Freshman Liana Beauchamp (Genoa-Kingston HS, Kingston, Ill.) placed sixth in the shot with a toss of 37'6 ½" and junior Amber Gruber (Rolling Meadows HS, Arlington Heights, Ill.) was seventh in the weight throw with a toss of 38' 6 ¼".
Augustana will be in action again on Saturday, January 22 at the Midwest Invitational in Monmouth, Illinois.