January 13, 2011
2010 Season - Quartet of Vikings named to all-decade team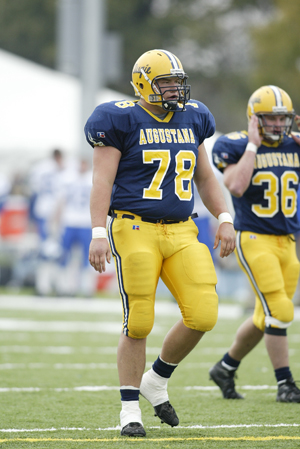 Augustana offensive lineman J.D. Sheldon (1998-2002) was one of four Viking players named to D3Football.com's All-Decade team this week.
D3Football.com has announced its all-decade team for the years from 2000-09 and it includes four Augustana Vikings. In fact, the first team offensive line is bookended by a pair of Viking tackles in J.D. Sheldon (1998-2002) and Blaine Westemeyer (2006-2009). Offensive guard Mackenzie Hay (1997-2000) earned a second team berth while kicker Mike Clark (2001-2004) was named to the third team.
Sheldon came to Augustana from Harvard, Illinois and Marian Central Catholic High School and made an immediate impact before having his freshman season cut short by a knee injury. It turned out to be a small bump in the road for the 6-4, 295-pound offensive tackle. He returned in 1999 to earn first team All-CCIW honors and then proceeded to repeat that feat the next three years as well, becoming just the fifth four-time first team honoree in school history. In addition, he was a D3Football.com honorable mention All-American in 2000 before garnering first team honors in 2001 and 2002. He received All-America recognition from the Associated Press, American Football Coaches Association, Hewlett Packard and Football Gazette as well.
During J.D.'s four full seasons at Augustana, the Vikings won 33 of 42 contests and captured two CCIW championships. Behind his blocking, the ground game churned out a remarkable 13,975 rushing yards, including a school-record 4,445 in 2001. From 1999-2002 the Vikings averaged 332.7 rushing yards per game, 5.2 yards per carry and scored 155 rushing touchdowns. Shelton helped clear the way for two CCIW Offensive Players of the Year-Joe Schmulbach in 1999 and David Chorney in 2001. Since his playing days at Augustana ended, he's stayed active on the gridiron, playing with the Chicago Slaughter of the Continental Indoor Football League and helping the team win a league championship in 2009.
Westemeyer, one of the most decorated athletes in school history, joined Sheldon as a first team selection on the All-Decade team. The 6-5, 285-pound tackle became the first offensive lineman ever to win the Gagliardi Trophy-the highest honor in Division III football-in 2009. He came to Augustana from Blue Valley Northwest High School in Overland Park, Kansas. He moved into the starting lineup as a freshman and by the end of his sophomore year had become enough of a force to earn first team All-CCIW honors. He was a first team all-conference selection as a junior and senior as well. The AFCA named him a first team All-American as both a junior and senior and he also earned first team All-America honors from D3Football.com and Associated Press his senior year. His academic accomplishments were no less impressive. He was a two-time first team ESPN The Magazine Academic All-American and won postgraduate scholarships from the NCAA and National Football Foundation & College Football Hall of Fame.
Blaine helped Augustana win 25 of 40 games and a CCIW title during his four years and his versatility was a key as the Vikings made the transition from the wing T to the spread offense.
Hay, a product of Polo High School in Polo, Illinois, earned a starting spot for the Vikings midway through his freshman season. He played guard his first year before moving to center as a sophomore. He shifted back to guard for his final two seasons and ended up being a two-time first team All-CCIW pick. He was also a two-time first team D3Football.com All-American. In addition, he earned All-America recognition from Hewlett Packard, D3 News, USA Football, Columbus Multimedia, Football Gazette and the AFCA during his career. He excelled in the classroom as well, earning first team Academic All-America honors from Verizon as a senior in addition to an NCAA postgraduate scholarship.
The 6-3, 260-pound Hay played on the same line with Sheldon in 1999 and 2000. In his four seasons, the Augustana ground attack produced 12,518 yards-an average of 321.0 yards per game and 4.9 a carry-and 131 rushing touchdowns. Mack's teams won 30 of 39 games and two CCIW championships during his career.
Mike Clark set four school records and one NCAA Division III record on his way to All-CCIW and multiple All-America honors. On September 27, 2003, he nailed a 54-yard field goal as time expired to give the Vikings a 27-26 win over Wisconsin-Platteville. That kick represented not only the longest in school history-surpassing Barry Reade's 51-yarder in 1988-but the longest game-ending field goal in Division III history. Clark was far from a one-hit wonder however, setting school records for field goals in a season (10 in 2001) and career (31) as well as kicking points in a season (75 in 2001). He connected on 31 of 46 field goal attempts during his career, including a perfect 21-for-21 on tries from inside 30 yards. He was successful on five kicks from 40 yards or better in addition to his school record boot. He also converted 128 of 138 point after attempts. His 221 career kicking points rank second in school history, trailing only Reade's total of 233.
The 6-5, 235-pounder from Pleasant Valley High School in Bettendorf, Iowa was a first team D3Football.com All-America pick as a junior and a second team selection his senior year. He also earned All-America recognition from Football Gazette, Sports Info Directors, and the AFCA during his career. He was a first team All-CCIW pick and first team CoSIDA Academic All-American as a senior.