January 15, 2011
2010-11 Season - Slow start dooms Vikings at Carthage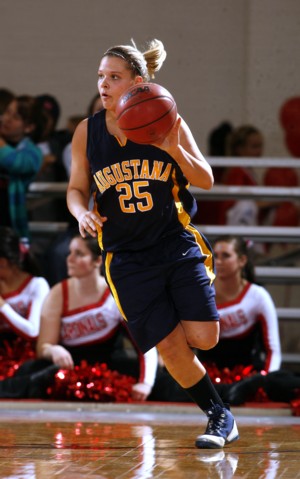 Augustana senior Kristen Fox had 13 points and eight rebounds, but the Vikings fell at Carthage by a score of 71-33.
KENOSHA, Wis.-Carthage scored the game's first 17 points Saturday night and Augustana was never able to recover, falling to the Lady Reds 71-33 at Tarble Center. Senior Kristen Fox (Ottawa HS, Ottawa, Ill.) led the Vikings with 13 points as Augustana fell to 4-11 on the season and 0-4 in CCIW play. Carthage improved to 11-4 overall and 2-2 in the conference.
The Lady Reds started the game on a 17-0 run before Viking freshman Jessica Baids (West Chicago HS, Carol Stream, Ill.) finally got the lid off the basket for the visitors with a free throw at the 12:37 mark of the first half. Fox scored the first Viking field goal a minute later, but Carthage continued to build on the lead, extending it to 27-3 with 9:03 left. The first half ended with the Lady Reds ahead 43-12.
Fox scored nine points in the second half as the Vikings had a much better go of it. Carthage outscored Augustana by a 28-21 margin in the second 20 minutes.
Fox added a game-high eight rebounds to her 13 points. Dianna Jacklin and Heather Gilmore shared scoring honors for the Lady Reds with 14 points each. Carthage (25-59) outshot the Vikings (11-50) .424 to .220 from the field and .615 (8-13) to .125 (2-16) from three point range. The Lady Reds also had a 49-33 edge on the glass.
The Vikings will try to bounce back Tuesday, January 18, when they host the Millikin Big Blue in a 7:30 p.m. contest.