January 15, 2011
2010-11 Season - Scholten, Quiros win titles at Central of Iowa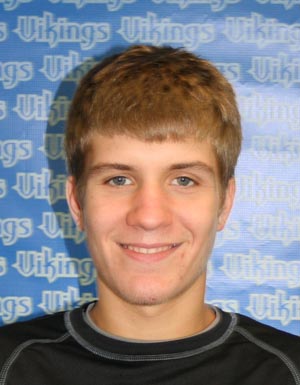 Freshman Jacob Scholten moved his record to 24-4 on the season en route to winning the 125 pound weight class at the Central of Iowa Open on Saturday, January 15 in Pella, Iowa.
Led by the individual championship performances from freshman Jacob Scholten (Rockford HS, Grandville, Mich.) and junior Alberto Quiros (Morton East HS, Cicero, Ill.), the Augustana wrestling team turned in a solid performance at the Central of Iowa Invitational on Saturday, January 15 in Pella, Iowa. Scholten won the 125 pound weight class and Quiros took first place honors at 141 as a total of seven Vikings placed in the meet, which did not have any team scores.
Scholten was the number one seed in the field at 125 pounds and he lived up to his billing by winning three matches en route to the title. He opened with an 18-1 technical fall over Andrew Angelbeck of Missouri Baptist in the opening round and then beat Eric Thavonekham of Grand View 5-2 in the semi-finals. In the championship match he squeezed out a 1-0 win over third seeded Venel Rene of Waldorf. Scholten is now an impressive 24-4 on the season.
Quiros, who was 15-17 a year ago, continues to be impressive. Like Scholten, he was a number one seed and he cruised through the 141 pound weight class. He opened things with a pin at 4:06 of his match with Steven Hall, who was wrestling unattached. He followed that by manhandling Nathan Lexvold of Augsburg 22-10 and in the semi-finals he defeated Kirk Sallis of North Iowa 7-3. Quiros took apart second seeded Ryan Timmerman of St. Olaf 12-4 in the championship match to move his record this year to 24-6.
Freshman Bradley McDermott (Davenport Assumption HS, Davenport, Iowa) at 133 and sophomore Hunter Feraco (Gull Lake HS, Battle Creek, Mich.) at 197 both earned second place finishes.
McDermott, who has been used sparingly this season, was unseeded but won three straight matches to reach the final at 133. He pinned Blake Rogers, unattached, at 3:41 in the opening round and then advanced by default of Ali Mohammed of North Iowa to reach the semi-finals. Against number one seeded Alex Johnson of Augsburg, McDermott won 4-3 before falling to second seeded Wismit Moinius of North Iowa in the title bout. McDermott is now 8-4 on the year.
Feraco moved up a weight class to 197 from his usual 184 and he didn't have any trouble handling the additional weight. As the third seed he beat Dan Gordon of Central of Iowa 5-0 in the opening round before pinning Brian Martin of North Iowa at 1:49 in the quarterfinals. In the semi-finals, Feraco won a tight 2-1 decision over second seeded Weston Hawkins of North Iowa. He dropped a 6-1 decision to top seeded Jeff Roman of Waldorf in the championship and is now 18-10 this season.
Sophomore Alex Vavra (Gull Lake HS, Dowling, Mich.) placed third at 174 and he did it the hard way. Vavra was seeded third but he was upset in his opening round match by Jackson Mboma of Augsburg. That started a long road back to third place as he was forced to win six matches, including a pin at 4:33 of the third place match against Gabe Vasquez of Waldorf. Vavra recorded four falls as he marched his way to third place and moved his record for the year to 26-8.
Sophomore Greg Gogonas (Bowie HS, Austin, Texas) and freshman Jordan Graham (Big Rapids HS, Fremont, Mich.) each earned fourth place finishes. Gogonas was 3-2 at 133 pounds and is now 16-12 on the year while Graham went 2-2 at 165 and is 19-8.
Augustana will be in action next on January 19 with a dual meet at the University of Chicago before heading to the Wheaton Duals on January 22 in Wheaton, Illinois.