January 14, 2011
2010-11 Season - Coe edges Augustana in dual competition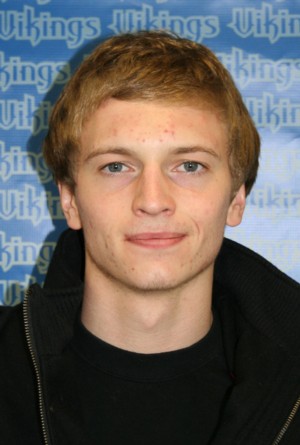 Viking freshman Jasen Hengst won the 200 individual medley and competed on the winning 200-yard medley relay in a dual meet loss at Coe Friday.
CEDAR RAPIDS, Iowa-The host Coe Kohawks picked up a win in the final event Friday to edge Augustana 104-101 in dual meet competition. The Vikings won seven of 11 individual events and one of two relays, but fell when their 200-yard freestyle relay team was disqualified in the final event. Augustana is now 2-2 in dual meets this season.
Justin Reppy (Oswego HS, Oswego, Ill.) and Chris Greaves (Morris HS, Morris, Ill.) each won two individual events while Jasen Hengst (Bettendorf HS, Bettendorf, Iowa) and Austin Zarbuck (Urbana HS, Urbana, Ill.) each pick up an individual win and competed on the winning 200-yard medley relay.
Ryan Chaney (Pleasant Valley HS, Bettendorf, Iowa) and Denny Wind (Downers Grove North HS, Downers Grove, Ill.) teamed with lead-off man Hengst and anchor Zarbuck to open the men's meet with a winning 1:53.45 in the 200 medley relay. Reppy followed with the first of his wins, finishing the 1000-yard freestyle in 10:45.28. Greaves then captured the 200-yard freestyle in a time of 1:54.02.
Reppy's other win came in the 500-yard freestyle, where he swam a 5:02.16 and Greaves added a win in the 100 backstroke, finishing in :59.29.
Other individual victories for the Vikings came from Daniel Hinck (Harlem HS, Loves Park, Ill.) in the 50-yard freestyle (:22.93), Hengst in the 200 individual medley (2:13.52) and Zarbuck in the 100 butterfly (:59.15).
Next Friday and Saturday, January 21-22, the Vikings will be competing at the Grinnell Invitational. Action is scheduled to begin at 9:00 both days.