January 13, 2011
2010-11 Season - Vikings edged 19-18 by Cardinals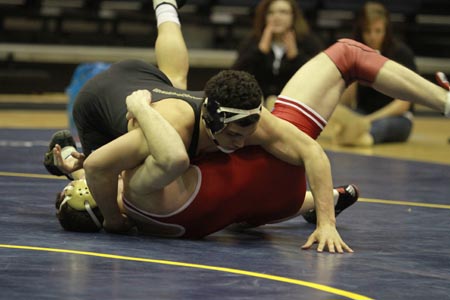 Alex Vavra earned a first period pin at 174 pounds to tie the match at 12-12 against North Central, completing a rally from a 12-3 deficit for the Vikings. Vavra improved to 20-7 overall this season, but Augustana dropped a 19-18 decision to the Cardinals.
ROCK ISLAND, Ill. – The Augustana wrestling team fell one point short against North Central on Thursday, January 13 in Rock Island, Illinois, but still saw four wrestlers walk away with victories. The Vikings fall to 6-4 in dual matches while the Cardinals improve to 4-1.
Freshman Jacob Scholten (Rockford HS, Grandville, Mich.) opened the night on a positive note for the Blue & Gold with a 4-1 decision over the Cardinals' Nick Santos at 125 pounds. The visitors responded by winning four close matches at 133 (2-0), 141 (2-0), 149 (1-0), and 157 (4-1) to move out in front, 12-3.
Augustana started to rally when freshman Jordan Graham (Big Rapids HS, Fremont, Mich.) gutted out a 4-2 overtime victory against Jason Bonham of North Central at 165 pounds. Sophomore Alex Vavra (Naperville Central HS, Naperville, Ill.) quickly followed with a first round pin over Jason Bonham to knot the score at 12-12 with three matches remaining.
A 17-5 victory at 184 put the Cardinals back in front, 16-12, before a 6-1 win at 197 gave the visitors an insurmountable advantage at 19-12. Senior Tim Day (Wheaton Warrenville South HS, Wheaton, Ill.) finished the meet in style for the Vikings with a third period pin, defeating Adam Kendall to make the final margin 19-18.
The Blue & Gold are back in action at the Central of Iowa Invitational on Saturday, January 15 in Pella, Iowa. Augustana's next dual match is Wednesday, January 19 at the University of Chicago.
AUGUSTANA vs. NORTH CENTRAL
January 13, 2011
Rock Island, Illinois
FINAL SCORE: NORTH CENTRAL 19, AUGUSTANA 18
125 – Jacob Scholten (AUG) beat Nick Santos (NCC) 4-1
133 – Nathan Fitzenreider (NCC) beat Greg Gogonas (AUG) 2-0
141 – Andrew Zobac (NCC) beat Alberto Quiros (AUG) 2-0
149 – Eric Oyster (NCC) beat Steven Poffenberger (AUG) 1-0
157 – Joby Bodi (NCC) beat Justin Hoffman (AUG) 4-1
165 – Jordan Graham (AUG) beat Jason Bonham (NCC) 4-2 (OT)
174 – Alex Vavra (AUG) pinned Greg Schroeder (NCC) in the first period
184 – Billy Malone (NCC) beat Matt Burns (AUG) 17-5
197 – Andrew Bradley (NCC) beat Matt Nykaza (AUG) 6-1
285 – Tim Day (AUG) pinned Adam Kendall (NCC) in the third period
Story written by Assistant Sports Information Director Adam Strand