January 12, 2011
2010-11 Season - Defense, Voiles key 70-57 win over Wheaton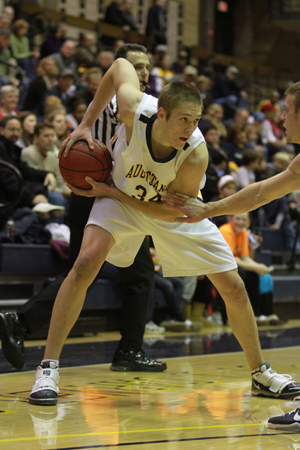 Bryant Voiles tied a career high with 19 points Wednesday night as Augustana defeated Wheaton 70-57 at Carver Center.
ROCK ISLAND, Ill. - Augustana held Wheaton scoreless for a key seven-minute stretch in the first half and built up a 20-point lead at intermission, eventually cruising to a 70-57 win Wednesday night at Carver Center. Bryant Voiles (Byron HS, Byron, Ill.) tied a career high with 19 to points to lead the way. The Vikings improve to 14-0 on the season and 3-0 in the CCIW while the Thunder drop to 10-4 overall and 1-2 in league play.
Wheaton freshman Jon DeMoss converted the second of two free throws to tie the game at 6-6 with 15:23 left in the first half, but the Thunder wouldn't score again until Tim McCrary's basket at the 8:23 mark. In between, Augustana went on a 16-0 run. Four different Vikings scored to push the lead to 15-6 then Voiles went on a 7-0 run of his own to extend it to 22-6 before McCrary's bucket.
The lead continued to grow, reaching 18 at 33-15 on a Voiles three-pointer with four minutes left. Kameron Norton's (Downers Grove North HS, Downers Grove, Ill.) put-back of a Troy Rorer (Bettendorf HS, Bettendorf, Iowa) miss just before the buzzer made it 41-21 at the break.
Jeremy Pflederer drained a three-pointer on the Thunder's opening possession of the second half to cut the lead to 17, but that's as close as Wheaton would get until late in the game. Voiles answered with a three 20 seconds later to make it 44-24. A three by Mike Avallone (Neuqua Valley HS, Naperville, Ill.) another bucket by Voiles extended the margin to 53-30 with 14:24 remaining and when Kyle Nelson (Deerfield HS, Deerfield, Ill.) scored at the 11:28 mark, it gave the Vikings their biggest lead of the night at 57-33.
Spencer Schultze's basket with 3:09 left cut the lead to 68-52, the closest the Thunder had been since the opening possession of the second half. Coach Grey Giovanine took the opportunity to go deep on his bench in the last two and a half minutes as the Vikings went on to the 13-point win.
The Augustana defense, which forced eight Thunder turnovers during Wheaton's seven-minute scoring drought, was tremendous all night. It held McCrary, a 2nd team All-America selection last year, to just eight points on 3-of-10 field goals. The Thunder, who came in shooting just a shade under 50 percent from the field, could manage just a .383 mark (18-47) for the game.
Avallone, who scored 11 points in 11 minutes, was the only Viking besides Voiles to reach double figures, but Brian DeSimone (Buffalo Grove HS, Wheeling, Ill.) added eight, Nelson and Rorer seven, and Drew Croegaert (Geneseo HS, Geneseo, Ill.) six. DeSimone, Nelson, Croegaert and George Dexter (Bettendorf HS, Bettendorf, Iowa) each had three of the Vikings 20 assists in the contest. Nelson led the way with six rebounds and Norton added five.
Alone atop the CCIW standings at 3-0, the Vikings head to Kenosha, Wisconsin on Saturday, January 15 to take on defending league champion Carthage in a 7:30 p.m. game.