1938 grad cheers Vikings to 14th straight win
January  16, 2011
| | |
| --- | --- |
| | / |
| Don Clark '38 shows off the lifetime game pass he received more than 70 years ago. | A team photo of the 1935-36 men's basketball team shows coach H.V. "Shorty" Almquist at far left. Standing next to him and wearing the No. 9 is Don Clark. The yearbook said, "Although the 1935-36 basketball team did not win the I.I.A.C. championship, the team was still the greatest ever to represent Augustana. Faced with the toughest schedule any Augie team has yet had, the squad came through by winning 21 out of 24 games."(See larger image) |
(Editor's note: Don Clark was on hand as the Vikings added another win to their streak on Wednesday, Jan. 19, against Millikin.)
Augustana 1938 alumnus Don Clark knows firsthand the thrill of a record-setting win streak. He was a member of the 1935-36 Augustana basketball team that went 16-0, still the college's best start.
On the evening of Jan. 12, the 94-year-old Clark joined hundreds of fans at the Carver Center to cheer the Vikings to their 14th straight victory with no losses. Augustana held Wheaton scoreless for a key seven-minute stretch in the first half and built up a 20-point lead at intermission, eventually cruising to a 70-57 win. (See game story)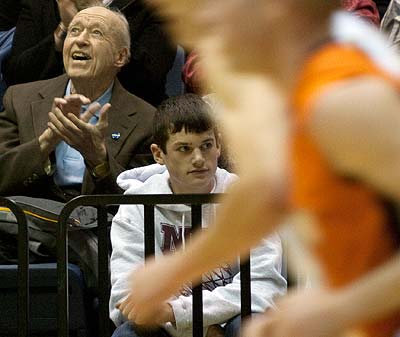 Don Clark, a 1938 alumnus, checks the score during the Vikings' 70-57 win over Wheaton. (Augustana Photo Bureau/Matt Peters '11)
When asked if he's pulling for Coach Grey Giovanine's squad to break his team's 75-year-old record of 16-0, he doesn't hesitate in saying, "I sure am. I hope they go all the way, win the conference and everything."
After last Saturday's win against Elmhurst, Clark talked with the team in the locker room where a photo of the 1935-36 team decorates the "wall of champions." In the photo, Clark stands next to his coach, Shorty Almquist. And Clark is proud to note that the yellowed game pass he uses to get into home games is signed by none other than Shorty Almquist.
A self-described "bench sitter" for the 1935-36 team, Clark was a sophomore on the reserve squad who "practiced with the older players every evening." Currently a resident of Friendship Manor in Rock Island, Clark is a former coach at Orion High School.
Although the 2011 Vikings seem bigger and quicker to Clark, he points out that his 1935-36 team had a center by the name of Henry Mead, who was 6 feet 10 ½ inches tall. Most of his other teammates, however, were closer to 6 feet tall, he says.
The 1935-36 team started 16-0 before finally falling to Millikin in what would end up as a 21-3 season. Clark's team then was invited to compete in the Olympic trials of the fifth district, which included the best teams in Michigan, Indiana, Ohio and Illinois. After a thrilling 41-40 victory over Butler University, the Vikings fell to Indiana State of Terre Haute, 30 to 26.
Next up for the 2011 Vikings will be a game at Carthage on Saturday night. They take on Millikin and North Central at home next week. Don't be surprised to find Clark in the bleachers cheering for his beloved Blue & Gold.