January 10, 2011
2010-11 Season - Quiros and Scholten lead way at Knox Duals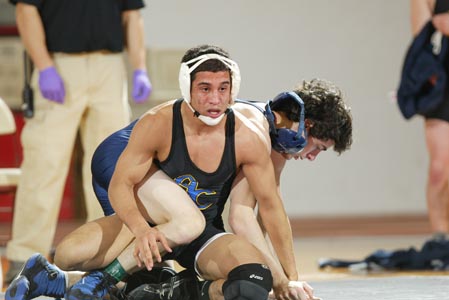 Alberto Quiros won four matches at the Knox Dual Tournament on Saturday, January 8 t move his record to 20-5 on the season.
Augustana got back into action on the wrestling meet at the Knox Dual Meet Tournament on Saturday, January 8 in Galesburg, Illinois. The Vikings went 2-2 on the afternoon, beating Wisconsin-Platteville (29-6) and Hannibal-LaGrange (45-3) and losing to Trine (28-18) and Wabash (25-10). The Vikings of head coach Eric Juergens are now 6-3 on the season heading into a match on Thursday, January 13 at home against North Central. That contest will begin at 7:00 p.m.
Junior Alberto Quiros (Morton East HS, Cicero, Ill.) at 141 pounds and freshman Jacob Scholten (Rockford HS, Granville, Mich.) at 125 pounds both went 4-0 during the competition on Saturday.
TRINE 28, AUGUSTANA 18
The Vikings started the match against Trine with victories in the first three weight classes but could pick up just one other win en route to falling 28-18. Freshmen Jacob Scholten (Rockford HS, Granville, Mich.) and Bradley McDermott (Davenport Assumption HS, Davenport, Iowa) each picked up forfeits at 125 and 133 pounds respectively. Junior Alberto Quiros (Morton East HS, Cicero, Ill.) knocked off Forrest Romer at 141 by a score of 11-4 and Augustana led 15-0. The only other win would come at 165 pounds where freshman Jordan Graham (Big Rapids HS, Fremont, Mich.) beat Ryan Pieper 5-3.
125 – Jacob Scholten (AUG) won by forfeit
133 – Bradley McDermott (AUG) won by forfeit
141 – Alberto Quiros (AUG) beat Forrest Romer (T) 11-4
149 – Nick Odom (T) beat Steve Poffenberger (AUG) 4-2
157 – Elias Larson (T) pinned Justin Hoffman (AUG) @ 2:02
165 – Jordan Graham (AUG) beat Ryan Pieper (T) 5-3
174 - George Markou (T) beat Alex Vavra (AUG) 9-8
184 – Jason Alber (T) pinned Hunter Feraco (AUG) @ 5:52
197 – Alex Fleet (T) beat Matt Nykaza (AUG) 12-3
285 – Dylan Forbes (T) pinned Tim Day (AUG) @ 1:00
AUGUSTANA 29, WISCONSIN-PLATTEVILLE 6
An impressive display of balance helped Augustana to a 28-6 win over Wisconsin-Platteville. The Vikings won eight of 10 weight classes and only picked up one pin along the way. That belonged to junior Alberto Quiros (Morton East HS, Cicero, Ill.) at 141 points where he pinned Daron Fuglsang at 4:38. Freshman Jacob Scholten (Rockford HS, Grandville, Mich.) got things started in the right direction with a 5-3 win over Mack Drees at 125 pounds. After Quiros recorded his pin, sophomore Steve Poffenberger (Allegan HS, Paw Paw, Mich.) beat Bobby Bennett 11-3 at 149 pounds. Freshman Justin Hoffman (East Buchanan HS, Winthrop, Iowa) defeated Austin Holland 7-5 at 157 pounds. Freshman Jordan Graham (Big Rapids HS, Fremont, Mich.) picked up a 5-0 shutout over Jon Quamma at 165. Sophomore Alex Vavra (Gull Lake HS, Battle Creek, Mich.) beat Nathan Schmitz at 174 by a 10-2 margin. Sophomore Hunter Feraco (Gull Lake HS, Battle Creek, Mich.) picked up a tough 4-3 win over Abraham Graziano at 184. Senior Tim Day (Wheaton-Warrenville South HS, Wheaton, Ill.) ended the match with a 3-1 win over Mike Harman at 285 pounds.
125 – Jacob Scholten (AUG) beat Mack Drees (UWP) 5-3
133 – Allen Fish (UWP) beat Greg Gogonas (AUG) 4-2
141 – Alberto Quiros (AUG) pinned Daron Fuglsang (UWP) @ 4:38
149 – Steve Poffenberger (AUG) beat Bobby Bennett (UWP) 11-3
157 – Justin Hoffman (AUG) beat Austin Holland (UWP) 7-5
165 – Jordan Graham (AUG) beat Jon Quamma (UWP) 5-0
174 - Alex Vavra (AUG) beat Nathan Schmitz (UWP) 10-2
184 – Hunter Feraco (AUG) beat Abraham Graziano (UWP) 4-3
197 – Matt Scott (UWP) beat Matt Nykaza (AUG) 6-4
285 – Tim Day (AUG) beat Mike Harman (UWP) 3-1
AUGUSTANA 45, HANNIBAL-LAGRANGE 3
Fueled by three forfeits and three pins, Augustana had no trouble dispatching Hannibal-LaGrange, winning by a comfortable 45-3 margin. Freshman Jacob Scholten (Rockford HS, Grandville, Mich.) at 125, sophomore Hunter Feraco (Gull Lake HS, Battle Creek, Mich.) at 184 and senior Tim Day (Wheaton-Warrenville South HS, Wheaton, Ill.) at 285 all picked up forfeits. Sophomore Greg Gogonas (Bowie HS, Austin, Texas) at 133, junior Alberto Quiros (Morton East HS, Cicero, Ill.) at 141 and sophomore Steve Poffenberger (Allegan HS, Paw Paw, Mich.) at 149 all pinned their opponents. Freshman Jordan Graham (Big Rapids HS, Fremont, Mich.) at 165, sophomore Alex Vavra (Gull Lake HS, Dowling, Mich.) at 174 and senior Matt Nykaza (Brother Rice HS, Oak Lawn, Ill.) at 197 all won by decision.
125 – Jacob Scholten (AUG) won by forfeit
133 – Greg Gogonas (AUG) pinned Jesse Feeler (HL) @ 2:39
141 – Alberto Quiros (AUG) pinned Zach Fish (HL) @ 4:19
149 – Steve Poffenberger (AUG) pinned Alexander Erhart (HL) @ 2:18
157 – Bryce Alxander (HL) beat Matt Burns (AUG) 11-4
165 – Jordan Graham (AUG) beat Ian Taylor (HL) 6-1
174 - Alex Vavra (AUG) beat Dan Capp (HL) 2-1
184 – Hunter Feraco (AUG) won by forfeit
197 –Matt Nykaza (AUG) beat Jake Hare (HL) 10-4
285 – Tim Day (AUG) won by forfeit
WABASH 25, AUGUSTANA 10
Despite winning the first three weight classes, the Vikings dropped a 25-10 decision to the Little Giants. Freshman Jacob Scholten (Rockford HS, Grandville, Mich.) started the match off with a 13-2 win over Josh Boyer at 125 pounds. Sophomore Greg Gogonas (Bowie HS, Austin, Texas) followed with a 6-2 win over Oscar Trujillo at 133. Junior Alberto Quiros (Morton East HS, Cicero, Ill.) made it victories at three straight weight classes when he trounced Jose Perez 16-4 at 141. That would be the last victory for Augustana, however, as Wabash won the last seven weight classes to secure the win.
125 – Jacob Scholten (AUG) beat Josh Boyer (W) 13-2
133 – Greg Gogonas (AUG) beat Oscar Trujillo (W) 6-2
141 – Alberto Quiros (AUG) beat Jose Perez (W) 16-4
149 – Jake Strausbaugh (W) beat Justin Hoffman (AUG) 15-5
157 – Devan Young (W) beat Matt Burns (AUG) 10-7
165 – Jake Moore (W) beat Jordan Graham (AUG) 8-4
174 – Von Wasson (W) beat Alex Vavra (AUG) 6-4
184 – Greg Rhoads (W) pinned Hunter Feraco (AUG) @ 1:54
197 – Austin O'Neil (W) beat Matt Nykaza (AUG) 3-1
285 – Patrick Clegg (W) beat Tim Day (AUG) 15-8