Sights and Sounds exhibit opens Jan. 28
January  10, 2011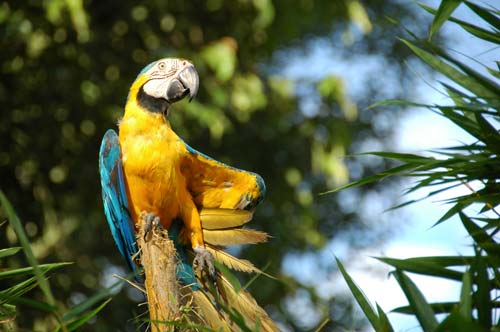 Maren Mathisen of the Augustana Photo Bureau shot this photo during a trip to Ecuador.
Celebrate the artistic and musical talents of Augustana students at the opening of the fourth annual Augustana Sights and Sounds exhibition from 6-9 p.m. Jan. 28 at Bucktown Center for the Arts, 225 E. 2nd St., Davenport.
The free event will feature distinctive photography from both Augustana students and Quad-City high school students, and videography from Augustana students. The exhibition will run through Feb. 25.
Augustana Photo Bureau students will display a series of photographs that highlight student life on the Rock Island campus, experiences in the Quad Cities and adventures in the world through international study programs. The event will incorporate the photography on display with several existing galleries and music.
For the third year, area high school photographers submitted favorite photos to compete for scholarship money and prizes. Members of the Augustana Photo Bureau judged the entries, and the winners' photos will be displayed as part of the exhibition.
Photo Bureau students featured in the show include John Cairns, Dana Gustafson, Corynn Hanson, Mark Marogil, Maren Mathisen, Matthew Peters and Alina Piotrowski. Mathisen and Gustafson assisted with planning the event. For the first time, Sights and Sounds will showcase videography from Augustana students; this year's event features the work of videographers Keyana Kirkland, Amanda Kriegl and Jonathan Manke.
The Augustana Photo Bureau was established in 2005 to support the publications, events, news and online needs of the Office of Communication and Marketing. The bureau has grown to support other departments and special events on campus. Under the direction of their advisor, Marla Alvarado Neuerburg, the students have the opportunity to learn and apply photographic skills in a variety of settings.
The Augustana Photo Bureau and MidCoast Fine Arts are coordinating this event during Bucktown's monthly Final Friday art show. Midcoast Fine Arts is a non-profit agency created by artists to promote regional artists and cultural organizations that advance the quality of life and marketability within the Quad Cities. The Bucktown Center for the Arts opened in 2005 as a creative community for local artists.
For more details about the event, contact Marla Alvarado Neuerburg at (309) 794-7632 or marlaalvarado@augustana.edu.