January 8, 2011
2010-11 Season - Augustana 13-0 after 67-45 win over Elmhurst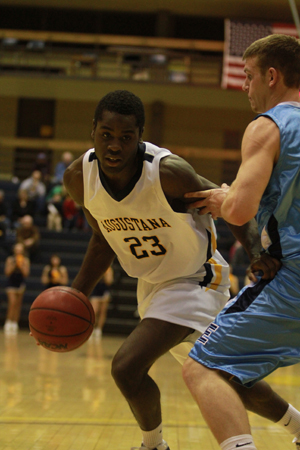 Troy Rorer contributed six points, eight rebounds, four assists and excellent defense as Augustana improved to 13-0 with a 67-45 win over Elmhurst.
ROCK ISLAND, Ill. - Behind another outstanding defensive effort, the 9th-ranked Augustana Vikings extended their season-opening winning streak to 13 games with a 67-45 win over Elmhurst. Augustana is now 2-0 in the CCIW and sits alone atop the conference standings. Elmhurst falls to 6-7 overall and 1-1 in the league.
Behind four points each from Bryant Voiles (Byron HS, Byron, Ill.), Kyle Nelson (Deerfield HS, Deerfield, Ill.) and Troy Rorer (Bettendorf HS, Bettendorf, Iowa), the Vikings jumped to an 18-9 lead after ten minutes. They went scoreless for the next six minutes, however, as the Bluejays put together a 7-0 run to cut the lead to two. Behind four more points from Voiles, Augustana closed the period on a 10-1 run to take a 28-17 halftime lead.
The Vikings overcame 12 first-half turnovers with a withering defensive effort that held the visitors to just four field goals on 23 attempts (.174). Elmhurst did get to the free throw line 16 times, but only converted seven.
Augustana bucked a recent trend of slow second half starts, by extending the lead to 14 on a Brian DeSimone (Buffalo Grove HS, Wheeling, Ill.) jumper and a Voiles free throw 33 second into the period. The Bluejays were able to get the lead under double digits just once after that, at 34-26 on a James Robertson bucket with 14:35 left.
A Drew Croegaert (Geneseo HS, Geneseo, Ill.) three-pointer at the 10-minute mark finished off a 12-2 Viking run and stretched the margin to 18 at 46-28. Coach Grey Giovanine was able to clear his bench with two and a half minutes left and freshman Sean Finn's (Assumption HS, Davenport, Iowa) shake-and-bake basket just before the final horn made the final margin the biggest of the night.
Three Vikings finished in double figures with Nelson leading the way with 12. Voiles and DeSimone each added 11 and Voiles also grabbed eight rebounds. Rorer had a strong game off the bench with six points, eight rebounds and a team-high four assists. Augustana held the visitors to just .314 (16-51) shooting from the field and had a 10-rebound edge (42-32) on the boards. The Vikings have yet to allow 50 points in either of their conference games.
The Wheaton Thunder comes to Carver Center on Wednesday, January 12 for a 7:30 tipoff.