A recital outside the (musical) box
Voice, trombone and works by women composers
January  07, 2011
A January 11 recital in Wallenberg Hall could be just the right amount of whimsy -- plus a whiff of the nontraditional -- to pull any audience out of the post-holiday doldrums. Dr. Sangeetha Rayapati and Dr. Sam Keehn, friends and colleagues in the music department, will present a recital featuring works for voice and trombone, separate and in combination, and composed only by women.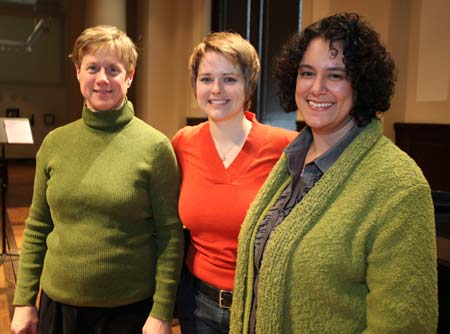 From left, Dr. Mary Neil, piano; Dr. Sam Keehn, trombone; and Dr. Sangeetha Rayapati, voice. (Augustana Photo Bureau/Marla Alvarado Neuerburg
The all-female program includes works for trombone by Elizabeth Raum, Ida Gotkovsky and Barbara York; vocal pieces by Lili Boulanger and Cecile Chaminade; and the comedic duet "Merrie English Love Songs" by Sharon Davis. The score for this unlikely pairing of voice and trombone also puts its performers in 19th-century period dress.
Costuming aside, it was difficult enough to find a suitable score for a duet. Dr. Rayapati explains, "Works for voice and trombone are not plentiful, but Sam did a great job in finding this piece." She points out the joint piece is "quite whimsical, which also describes our friendship. The musical collaboration is an extension of that friendship."
The two had thought it would be fun to perform together, agreeing it's more refreshing and easier to polish a performance with a friend. The idea to base a recital on women composers emerged from the desire to break tradition. Dr. Keehn had met one of the composers at a recent international women's brass conference and came away with "a tremendous amount of respect for her, and the impetus to study the piece."
Dr. Rayapati describes an all-female composer concert as significant in the classical music world. "Many musicians could not name one female composer if asked, so having a program like this provides a great way to experience lesser-known music." In a field historically dominated by men, she recognizes that history and tradition should be honored and respected, but that "for things to evolve we need to realize the full breadth and potential of musical contribution."
They welcome the opportunity to introduce students to new areas in the vast musical repertoire. Dr. Rayapati says she feels lucky to have the outlet for that exploration through this recital. "I want to expose students to that energy, and to the idea that exploration is still possible -- there is more than simply the standard repertoire. For me, this exploration has become a habit of mind that gets lived out in performance."
Dr. Keehn says the process of preparing for a recital makes for more effective, empathetic teaching, as well. "I can take what I'm doing and scale it down to the same process they need to go through," she says.
Not surprisingly, Dr. Keehn's students are interested in the nontraditional pairing of a brass instrument with voice. Students of voice will enjoy the added frisson of hearing songs in French. "I love the language and want them to have the chance to understand it," says Dr. Rayapati. "It's the language students struggle with the most."
Accompanied by Dr. Mary Neil on piano, singer and trombonist will perform their recital of works by female composers in Wallenberg Hall, Denkmann Memorial Building, at 8 p.m. on Tuesday, Jan. 11. The recital is free and open to the public.