January 5, 2011
2010-11 Season - Tough defense keys win in CCIW opener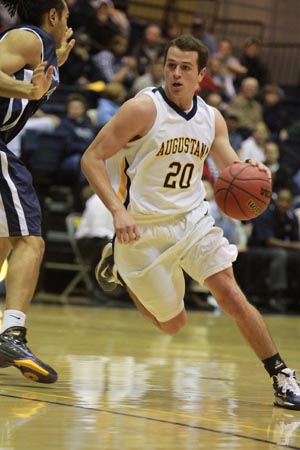 Brian DeSimone missed last Sunday's win over Chicago because he was sick. In Wednesday night's CCIW opening win at North Park, DeSimone showed he has recovered with a team high six assists, three steals, eight points and two rebounds. He also had just one turnover in 28 minutes of action.
A stifling second half defense proved to be the difference in Augustana's 62-49 victory at North Park in the College Conference of Illinois & Wisconsin opener on Wednesday, January 5 in Chicago. In moving to 12-0 on the season, the ninth ranked Vikings limited their hosts to just .286 (10-35) shooting from the floor in the second half. For veteran head coach Grey Giovanine that helped ease the pain of his own team's .375 (9-24) performance from the field in the second 20 minutes.
Augustana led 33-24 at halftime but did not score for over five minutes at the start of the period. However, the defense never wavered and North Park was only able to generate seven points of its own and when Troy Rorer (Bettendorf HS, Bettendorf, Iowa) finally broke the ice for the Vikings, the visitors still held a five point lead (35-30) after his layup off an assist from Brian DeSimone (Buffalo Grove HS, Arlington Heights, Ill.) at 14:21.
North Park did trim the lead to three (35-32) with a basket by Jorge Gonzalez at 13:48 but that would be as close as the home team would get. Chris Anderson (West Carroll HS, Mt. Carroll, Ill.) knocked in a three point basket at 13:28 to make it 38-32 and Brandon Kunz (Lake Zurich HS, Lake Zurich, Ill.) followed with a pair of free throws at 12:15 to push the advantage to eight (40-32).
With 7:42 left Anderson bagged another three pointer and that finally nudged the margin into double digits at 11 (47-36). The lead would never dip into single digits for the rest of the contest and when Bryant Voiles (Byron HS, Byron, Ill.) nailed a pair of free throws at 1:11, the advantage went to 14 points (61-47).
In the relatively low-scoring game three Vikings managed to reach double digits with Kyle Nelson (Deerfield HS, Deerfield, Ill.) leading the way with 13. Anderson added 12, with all of his points coming on three point baskets, and Voiles chipped in with 11, including a perfect six of six from the free throw line. Voiles was also dominant on the glass, hauling down a game high 12 rebounds.
Augustana shot .478 (11-23) from the floor in the first half but then struggled to get into the flow in the second half and wound up shooting .426 (20-47) from the field. The Vikings did hold a slim (38-26) edge in rebounding as Rorer was second in that department with five.
DeSimone, who missed Sunday's victory over the University of Chicago because he was sick, led the team with six assists and he added three steals and eight points while committing just one turnover in 28 minutes of action.
North Park had just one player in double figures and that was Clayton Cahill with 13. The home team shot just .362 (21-58) from the field.
Augustana is now 12-0 for the first time since the 1935-36 unit, under the direction of H.V. "Shorty" Almquist went 16-0. The Vikings are 1-0 in the CCIW and will host Elmhurst on Saturday, January 8 at 7:30 p.m. in the Carver Center.
North Park fell to 6-6 overall and 0-1 in league play.