January 5, 2011
2010-11 Season - Comeback falls short in CCIW opener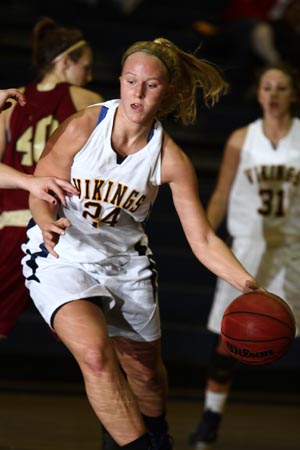 Natalie Runge scored 17 points and pulled down six rebounds in Augustana's 58-49 loss at North Park.
Falling behind by 19 points early in the second half proved to be too much to overcome for Augustana in the College Conference of Illinois & Wisconsin opener at North Park on Wednesday, January 5 in Chicago. The result was 58-49 loss for head coach Bobbi Endress' team.
Trailing 30-20 at halftime, the Vikings were outscored by North Park 16-7 in the first five minutes of the second stanza. When Roxanna Jones hit a layup at the 14:48 mark, the home team led 46-27. From that point, however, the Vikings trimmed the lead steadily and with 2:45 left Kristen Fox (Ottawa HS, Ottawa, Ill.) hit a jumper to make it a six point game (51-45). That 18-6 run got Augustana close but Shaina Yalda nailed a three point basket with 1:57 remaining to make it a nine point advantage (56-47). Each team traded two free throws to account for the final margin.
Natalie Runge (St. Dominic HS, O'Fallon, Missouri) led Augustana in scoring with 17 points and she also managed to pull down six rebounds. She was the lone Viking in double figures for the game. Fox was Augustana's leading rebounder with eight.
Jones led North Park in scoring with 14 points while Sarah Peterson had 12 points and a game high 10 rebounds. Dana Christensen was a third North Park player in double figures with 10 points.
Augustana shot just .367 (18-49) from the floor, including going just .318 (7-22) in the first half. The three point arc was not kind to the Vikings as they hit just one of 12 from distance.
Augustana fell to 4-8 overall and 0-1 in the CCIW while North Park moved to 7-5 and 1-0. Augustana will host Elmhurst in the Carver Center on Saturday, January 8 at 5:00 p.m.