January 5, 2011
2010 Season - Bowman named MVP in men's cross county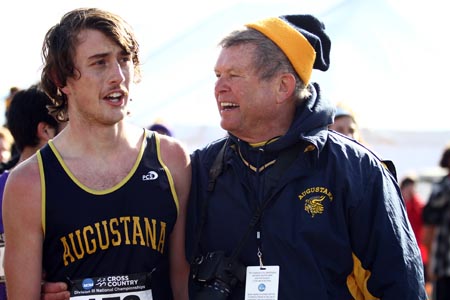 Senior Matt Bowman, shown here talking with head coach Paul Olsen minutes after earning All-American honors, was named the MVP for the 2010 Augustana men's cross country team.
Augustana senior Matt Bowman (Geneva HS, Elburn, Ill.) was voted the Most Valuable Runner for the 2010 men's cross country team. Bowman had an outstanding season in which he placed 32 nd in the NCAA Division III National Meet, earning All-American honors. He is the first Viking since Dave Nellis in 1996 to earn All-American honors. Bowman was the lone Viking to qualify for the national meet, and did so by finishing 14 th at the Midwest Regional hosted by Augustana. He was the top finisher for Augustana in six of the seven meets he competed in with the team, including a ninth place finish in the College Conference of Illinois & Wisconsin championship race.
The Most Improved runner was shared between two runners this year, senior Eric Erspamer (Bartlett HS, Bartlett, Ill.) and sophomore Nathan Smith (Fenton HS, Bensenville, Ill.) both of whom had great seasons. Matt Cwiok (John Hersey HS, Mt. Prospect, Ill.) and Isaac Trostle (Willowbrook HS, Lombard, Ill.) shared the Most Valuable Freshman Award. Cwiok also was voted as the Most Improved Freshman. The Most Inspirational award was shared by two seniors, Brad Keating (Cary Grove HS, Cary, Ill.) and Bowman.
Captains-elect for the 2011 season will be Michael Tisza (John Hersey HS, Prospect Heights, Ill.) , and Thomas Christian (Port Angeles HS, Port Angeles, Wash.) . Tisza and Christian will both be seniors next year. The captains for 2010 were Bowman, Keating and Sean Carmody (Winnebago HS, Rockford, Ill.) .
Augustana, under the direction of veteran head coach Paul Olsen, was ranked in the top 30 of NCAA Division III throughout the 2010 season. After an early victory at the Western Illinois Invitational, the Vikings followed with a fourth place finish at the Illinois Intercollegiate Championship and a second place finish at their home invite, the Brissman/Lundeen Invitational. The Vikings also placed 2 nd in the CCIW Championship race. An eighth place finish at the extremely tough Midwest Regional capped off the season for the team.
2010 AUGUSTANA VIKINGS MEN'S CROSS COUNTRY LETTERWINNERS
NAME

YEAR

HOMETOWN (HIGH SCHOOL)

Matt Bowman****(C)

Tyler Busch*

Sean Carmody****(C)

Thomas Christian***

Matt Cwiok*

Nick Danzy*

Eric Erspamer

Garrett Gingras*

Brandon Gittelman***

Tommy Harris**

Brad Keating****(C)

Brian Pollastrini**

Taylor Riley*

Ben Sharko*

Brandon Shaver*

Nathan Smith**

Jonathan Smith**

Justin Smith**

Billy TenBusch***

Mike Tisza***

Isaac Trostle*

Lucas Westblade**

Billy Wisser***

Senior

Elburn, Illinois (Geneva)

Freshman

Winnebago, Illinois (Winnebago)

Senior

Winnebago, Illinois (Winnebago)

Junior

Port Angeles, Washington (Port Angeles)

Freshman

Mount Prospect, Illinois (Hersey)

Junior

Naperville, Illinois (Naperville Central)

Senior

Bartlett, Illinois (Bartlett)

Freshman

Bloomingdale, Illinois (Glenbard North)

Junior

Naperville, Illinois (Naperville Central)

Sophomore

Davenport, Iowa (Assumption)

Senior

Cary, Illinois (Cary Grove)

Sophomore

Elmhurst, Illinois (York)

Senior

Winnebago, Illinois (Winnebago)

Senior

Elmhurst, Illinois (York)

Senior

Bloomington, Illinois (Normal University)

Sophomore

Bensenville, Illinois (Fenton)

Sophomore

Moline, Illinois (Moline)

Sophomore

Bensenville, Illinois (Fenton)

Junior

Cary, Illinois (Prairie Ridge)

Junior

Prospect Heights, Illinois (Hersey)

Freshman

Lombard, Illinois (Willowbrook)

Senior

Hillsdale, Michigan (Will Carleton Academy)

Junior

Mount Prospect, Illinois (Hersey)
* Denotes letters won
HEAD COACH: Paul Olsen
ASSISTANT COACH: Doug Sand