Journalist to discuss U.S.-Asia relations, media
January  04, 2011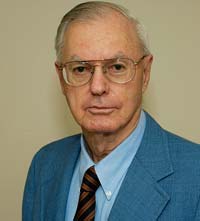 Richard Halloran
Journalist and political analyst Richard Halloran will push audiences to think "beyond the headlines" as he discusses the United States' relations with Asia during a free public lecture at 10:30 a.m. Jan. 27 in Centennial Hall, 3703 7th Ave.
His lecture, "East is East and West is West: Will the Twain never meet?" will be part of Augustana's celebration of International Studies Week.
Halloran will discuss U.S. relations with Asia from World War II through the present day, highlighting instances where the media's portrayal of events may have led Americans from the truth. He does not presume that his lecture will change audience members' perspectives on the media or the United States' relations with Asia.
"I would only hope to persuade Americans that they should not look at Asia through Western eyes but with an understanding that Asians see the world through many different lenses," he said.
Currently a freelance writer, Halloran contributes articles on U.S.-Asia relations and national security to major publications throughout the U.S. and Asia. Previously, he spent more than 20 years as a foreign correspondent for The New York Times, and was bureau chief for Japan, Korea, Taiwan and the central Pacific region. He says the most rewarding part of his work has been the people he gets to meet.
"The joy of being a journalist is that I have been able, without restriction, to talk with anyone who was willing," Halloran said. "I have spoken with two emperors of Japan, the presidents of South Korea, Taiwan, the Philippines, Indonesia and Pakistan, and several presidents of the United States. I have met a Japanese war criminal, a rope maker in a remote Korean village, a Chinese fisherman for whom I was the first Caucasian he had ever seen, and an Indian doctor. No formal education could ever compare with what I have been taught by these people."
Halloran will visit Augustana accompanied by his wife, Fumiko Mori Halloran, a former political analyst in Washington and Tokyo, and an author. She will be available for questions after her husband's lecture and will meet with small groups of students during the remainder of International Studies Week.
Augustana's Institute for Leadership and Service is sponsoring the Hallorans' visit.
Richard and Fumiko Mori Halloran are associated with the Woodrow Wilson International Center for Scholars. Established to promote collaboration between scholars and policymakers, the center serves as crucial "common ground" for today's academic and political leaders. Wilson scholars share their experiences in government policy, non-profit organizations, the corporate world and academia to forge a broader understanding of national and world affairs.
Scott Cason
Assistant vice president of communication and marketing
(309) 794-7323
scottcason@augustana.edu