January 2, 2011
2010-11 Season - Comeback win moves Vikings to 11-0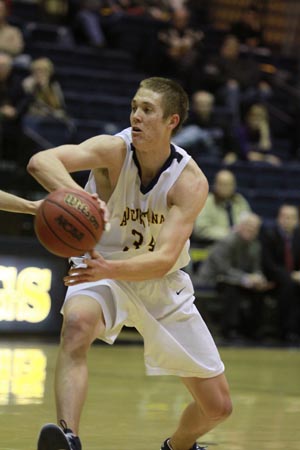 Bryant Voiles scored 19 points and pulled down nine rebounds to help lead Augustana to a come-from-behind 63-56 road victory at Chicago on Sunday, January 2. The Vikings, ranked 10th in NCAA Division III, are now 11-0 for the first time since 1935-36.
Things certainly weren't looking Augustana's way in the second half of the Vikings' final non-conference game of the 2010-11 season on Sunday, January 2 at the Ratner Center on the campus of the University of Chicago. Playing without starting point guard Brian DeSimone (Buffalo Grove HS, Arlington Heights, Ill.), who did not even make the trip because he was sick, the 10th ranked team in NCAA Division III was staring adversity right in the face. In an improbable turn of events, the Vikings rallied for a hard-fought 63-56 win over the Maroons.
Trailing by 10 points (46-36) with 14:01 left in the game, and having been outscored 16-6 over the first six minutes of the second half, Augustana was having trouble getting anything going. Six missed field goals and a turnover were the dominant figures on the stat sheet during that time frame and when Chicago's Chase Davis hit a field goal with 14:01 left it closed out the 16-6 run and put the Maroons in tremendous position to knock the Vikings from the ranks of the undefeated.
Instead, the Vikings went to a tried and true staple of Grey Giovanine-coached teams and turned to defense. Over the next 14 minutes of play, Chicago scored just 10 points as Augustana closed the game on a 27-10 run.
The Vikings' surge started innocently enough, with a basket by Bryant Voiles (Byron HS, Byron, Ill.) with 13:09 to play. Chris Anderson (West Carroll HS, Mt. Carroll, Ill.) then scored a basket (12:33), a conventional three point play (12:17) and a single free throw (12:02) and suddenly it was a two point game (46-44). Augustana forced three turnovers during that run and at 11:17 George Dexter (Bettendorf HS, Bettendorf, Iowa) scored a layup, was fouled and hit the free throw and suddenly the Vikings were ahead 47-46. It was a lead they would never relinquish.
A jumper by Kyle Nelson (Deerfield HS, Deerfield, Ill.) at 9:29 made it 49-46 and a rebound basket by Luke Scarlata (Morton East HS, Berwyn, Ill.) at 8:25 pushed the advantage to 51-46. It wasn't until 7:16 that Chicago got back into the scoring column when Stephen Palmtag hit a pair of free throws to trim the lead to 51-48 and snap Augustana's 15-0 run.
Anderson hit a three pointer at 4:41 to make it a six point margin (56-50) and Nelson hit a layup at 3:39 to balloon the advantage to 58-50. Voiles nailed four free throws in the final :43 of play to help keep the Maroons at bay.
Voiles carried the Vikings all afternoon, scoring a game-high 19 points and also leading all rebounders with nine. He was six of 12 from the floor and three of six from three point range and was perfect on four free throw attempts. He added an assist and played 25 minutes without a turnover or a foul. Anderson scored 15 points and had five rebounds and three assists and Nelson had 11 points and six rebounds. Scarlata pulled down seven rebounds. Senior Drew Croegaert (Geneseo HS, Geneseo, Ill.) got the start in DeSimone's absence and he played 30 minutes with just one turnover while adding six points, an assist and a steal.
Tommy Sotos and Matt Johnson shared the scoring lead for Chicago, now 3-8 on the year, with 11 points apiece.
Augustana owned the boards in the latter part of the game and finished with a 39-28 advantage in that department, including 16 offensive rebounds.
Not only did Augustana move to 11-0 on the season, but the Vikings are now heading into some historic territory. The 11-0 start is the first time since 1935-36 that they have ripped off 11 straight wins to begin the season. The coach of that 1935-36 team was H.V. "Shorty" Almquist, who would go on to legendary fame as the football coach at Rock Island High School. The 1935-36 unit actually started 16-0 before finally falling to Millikin in what would end up as a 21-3 campaign. Giovanine's 2005-06 team began the year 10-0 before falling to Wisconsin-Stout.
The Vikings will open the College Conference of Illinois & Wisconsin season on Wednesday, January 5 at North Park in Chicago with tip-off set for 7:30 p.m.