December 30, 2010
2010-11 Season - Augustana wins St. Norbert Tournament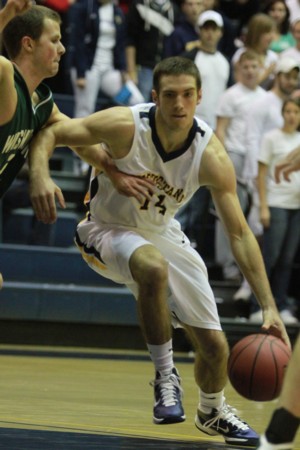 Senior Drew Croegaert scored eight points, setting a career high for the second night in a row, to help lead Augustana to a 57-56 win over St. Norbert in the championship game of the Nicolet National Bank Holiday Tournament in DePere, Wisconsin.
DE PERE, Wis.- Augustana came away with a 57-56 win over St. Norbert Thursday in the championship game of the Nicolet National Bank Holiday Tournament. The 10th-ranked Vikings used tremendous balance, with five players scoring between seven and nine points, to defeat the 12th-ranked Green Knights on their home court. Augustana improves to 10-0 on the year, while St. Norbert falls to 8-2.
St. Norbert started each half hot before the Viking defense settled in. The Green Knights opened the game by hitting four of their first six three point attempts to take a 14-9 lead with 12:48 remaining before the break. Kameron Norton (Downer Grove North HS, Downers Grove, Ill.) had a three-point play and another bucket to give Augustana an 18-16 lead before St. Norbert's John Taylor hit a jumper to tie it at 18 with seven minutes left.
Augustana then held the Green Knights scoreless for over five minutes, turning the 18-all deadlock into a 27-18 lead with under two minutes remaining. However, three-pointers from David Wipperfurth and Andy Fox and a Paul Appleton layup just before the halftime buzzer allowed the Green Knights to cut the lead to 29-26 at the break.
St. Norbert again jumped on the Vikings to open the second half, scoring the first seven points of the period to take a 33-29 lead. Chris Anderson (West Carroll HS, Mt. Carroll, Ill.) answered with a conventional three-point play to stanch the bleeding and the contest settled into a back-and-forth affair with the lead changing hands five times between the 15 and 10 minute marks.
Brandon Kunz (Lake Zurich HS, Lake Zurich, Ill.), who had been slowed by illness during the tournament, delivered in a key stretch midway through the half. First, he scored on a put back to put the Vikings ahead for good, 43-42 with 11:41 on the clock. He extended Augustana's lead to three with a jump hook in the lane on the next possession and then came up with a big blocked shot on the ensuing St. Norbert possession.
After a Drew Croegaert (Geneseo HS, Geneseo, Ill.) three-pointer pushed the lead to 50-44 at the 6:23 mark, the Green Knights converted four straight free throws to make it 50-48 with four minutes left. The Vikings' Kyle Nelson (Deerfield HS, Deerfield, Ill.) then scored in the lane, came up with a steal, hit an 18-foot jumper and found Bryant Voiles (Byron HS, Byron, Ill.), who drained a three-pointer to give Augustana a 57-50 lead with 2:21 left.
Aided by some Viking turnovers, St. Norbert got a three-pointer by John Taylor and three free throws from Wipperfurth to slice the margin to 57-56 with 1:08 remaining. Augustana turned it over two more times in the final minute, but came up with two huge defensive stops to preserve the victory.
Norton led a balanced Viking attack with nine points. Croegaert, Nelson and Voiles each had eight and Anderson added seven. Croegaert's total was a new career high, surpassing the seven he scored against UW-Stout on Wednesday. The Vikings survived 19 turnovers by hitting .523 from the field against a Green Knight defense that had allowed opponents to shoot just .355 from the floor in its first nine games. Augustana also hit five of 13 (.385) three-point attempts, all six of its free throw tries, held a 29-22 edge on the boards and limited St. Norbert to just .383 field goal shooting. The Green Knights hit just nine of 32 attempts from inside the three-point arc.
Voiles was named the tournament MVP and was joined on the all-tournament team by Nelson and Norton. Taylor and Wipperfurth were selected from St. Norbert as was UW-Stout's Eric Hostetter.
Augustana closes the non-conference portion of its schedule with a trip to Chicago on Sunday, January 2. The Vikings will take on the University of Chicago Maroons in a 3:00 p.m. contest.